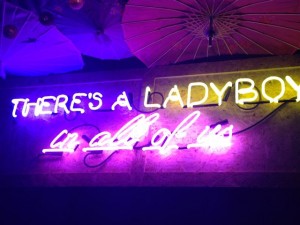 Ladyboy, just the name makes you want to go over there and have some fun! Brightening up Bridge Road, Ladyboy has attracted a fair bit of attention and the hipster crowd has a new spot to descend on on a Friday night and enjoy. The space runs through a large front room, small adjoining, decent sized back bar and a nice garden area too. We rock up and obviously weren't able to book a just for four (does anywhere anymore!) and since our friend came past an hour ago it's got a bit busier so we are told we can wait down at the back bar area and someone will come and say hi soon.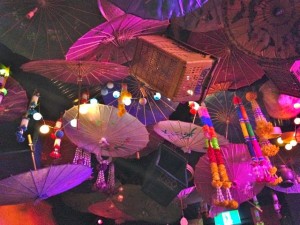 I love the decoration and colour of the bar ceiling scattered with baskets, umbrellas and fun, there is a big central share table which we manage to get seats at and order some drinks and then we wait a little while. In the end our friend flags down someone to ask if there might be a table soon, we might have been forgotten in the bustle of Friday night but the guy is really nice and we order a few nibbles to have where we are until our table comes up.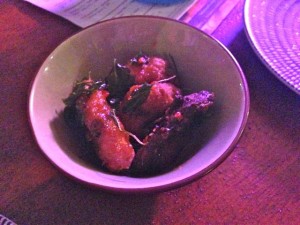 The fish cakes with crispy thai basil and sweet chilli are nice enough, I think mine was a bit too long in the fryer but still tasted ok.
Yummy 'Kao To' – crunchy aromatic rice balls with chilli tamarind dressing were really good, incredibly delicate, the collapse on the plate and they tasted fantastic with a really good smack of chilli.
Starting to really like our mate, he comes through a few times and apologises that our table finished sometime ago but don't seem to be moving on (or buying anything else either!) we have a few giggles over how he can get rid of them but as if my magic another table politely leaves and we are in the big front room and ready to feast!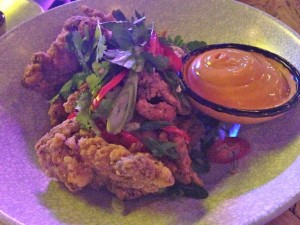 HEAVEN ALERT!! Crispy chicken ribs with sriracha mayonnaise and coriander – all my favourite things in one bowl, generous serve, good hit of sriracha, best dish of the night!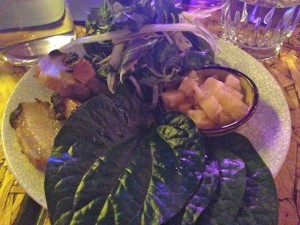 Roasted pork belly betel leaf with papaya and caramelised pineapple were really nice, good little mouthful.
This is were it got a bit weird…. We've been at the table for 15 mins, no one has mentioned anything and then when we try and order more food we get told the kitchen is closed…………… ehhhh? Aren't you a restaurant? It wasn't even late and it's Friday night! Someone spots the look of misery from our table (and the chance to make more money?!) and gives us a reprieve to order a couple of more dishes… probably won't push our luck for dessert!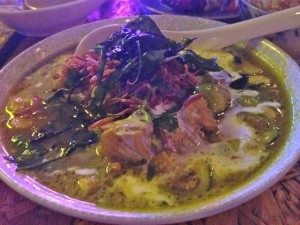 Green chicken curry with apple eggplant, snake beans and baby corn was ok, it wasn't my favourite, nice with the brown rice and roti but just a bit watery and not as much kick as I expected.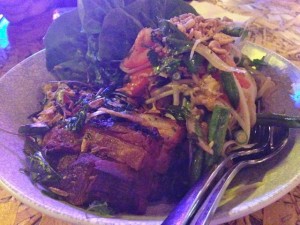 The roast pork belly and papaya & herb salad with smoky coconut sambal may have been a dish too far, maybe the kitchen secretly knew I was a fanatical 'over orderer' and were trying to save me all along!
The bill was reasonable and we all had a nice time, it's a nice space to kick back and enjoy a few cold beers and just get a few serves of those chicken ribs!!