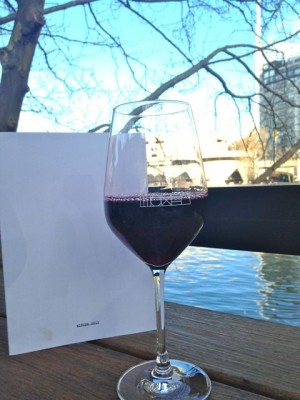 On a sunny Sunday afternoon in Melbourne one of best things to do is grab a spot by the river and watch the world go by and now The Arbory have set up camp down the side of the station there is a great spot that catches the sun, serves a decent wine and beer selection and serves so really good (albeit naughty!) food.
Probably one of the longest, thinnest bars in Melbourne, The Arbory is a very clever use of space and with a multitude of mushroom and barrel heaters it was almost too warm at our lovely table! The menu is brilliant, perfect pub grub with no pretention or ponce. They have a decent breakie menu which I haven't tried but banana pancakes with pistachio praline, strawberries, lime mascarpone and maple syrup sounds like a winner! Or the breakfast burger with chicken sausage fried egg, cheese and HP sauce… I know a man that would love that one!
The easy going lunch / menu cascades through a lots of different dishes with stand outs such as the Mortadella, mozzarella and truffle pecorino toastie or the Chilli dog with an Adelaide Hills Kransky, spicy beef, onion, cheese and mustard…. Hubby would like that one too!
There a nibbles with mushroom croquettes, corndog, calamari and steak tartare plus bigger dishes with 200g Great Southern Sirloin, braised cheek, black cabbage and parsley or mushroom and taleggio pie with leek puree and watercress….. it all sounds crazy good but do you know what else they do really well?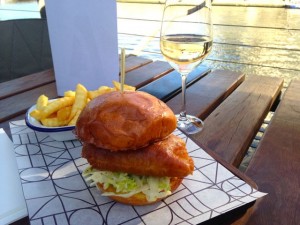 Burgers! Already a big fan of the cheeseburger and the crumbed mushroom and halloumi burger there is now a phenomenal Fish Burger! The 'Fish & Chip Roll' with remoulade, lettuce and crinkle cut chips. Despite hubbies disappointment that the chips weren't in the roll but he soon got over it when he inhaled the wonderful, thick, fresh white fish encased in supremely fluffy, crunchy batter. Loved that remoulade too… it was truly one of those dishes you are still dreaming of days later! (mouth watering as I type!!).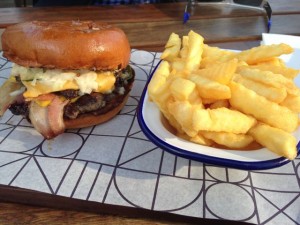 The Double Cheeseburger with bacon, pickles, tomato relish and chips was also really good, bacon is not welcome in my burger but it was still really tasty and a moderate sized serve for a double patty burger.
The service is always lovely, there are some great value bottles of wine on the list and if you can grab a spot you can spend a really lovely bit of time at The Arbory, it could only be made better with a sneaky door from the platforms to the pub! Also love that there is no smoking allowed at all – amen!