The Boy Who Cried Wolf is a little, an unassuming spot off Church Street, catering to the many workers located around there, unless you are in the know you might never know it is there. It does a really good coffee, there is always a friendly smile and there is a fridge full of goodies all day to make sure you get a well deserved breakie or lunch. Breakie there is always the tempting savoury tarts, a muffin cup of puff pastry with egg, bacon, spinach, cheese – lots of good stuff and so tempting! Or there are corn fritters with poached eggs to order to go or stay at one of the little tables around the back.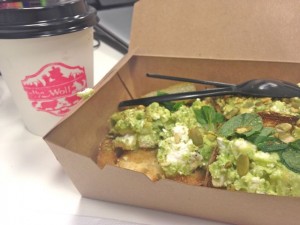 On Fridays, if I have been very good I can treat myself to a nice big coffee and the Avocado Smash, on sourdough with ample avocado, hunks of lovely feta and scattered with fresh mint and pumpkin seeds, It's super healthy, anti-inflammatory and delicious! It's a $12.50 serve but it is something I can nibble on for breakie and lunch so totally worth the splurge.
There is always something yummy on the boards at Boy, a warming laksa or in the summer I love their thai vermicelli salad with little spicy meatballs. It's a little goldmine and we're glad we have you!