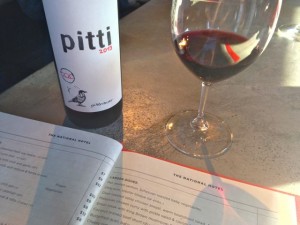 The National is a rockstar! We were lucky enough to attend a very special bloggers dinner recently and we couldn't wait to get back and take our friends too! It's a bit in no mans land on Victoria Street after the many Vietnamese spots there is the good old National Hotel. Offering friendly service, cool fit out, massive beer garden and some of the best pub grub in town.
The menu offers something for everyone and too many delicious choices for the foodie who loves to over-order! You can start with dumplings, curry puffs, drunken duck bao, pulled pork banh mi or fries with a red curry aioli. The National is not serving up a greasy burger or soggy parma, they are serving some damn fine Asian fusion fare and we love it.
Larger dishes cover something for just one or some bigger dishes for everyone to share… watch this space!! There is pan seared salmon, sirloin steak, coconut braised short ribs, cheeky ramen soup or grilled squid with warm vermicelli noodle salad. BUT lets get serious, if you are a group of hungry people looking for something to impress you cannot go past the Hoi Sin sticky rack of pork ribs with creamy slaw or the slow braised lamb shoulder with lettuce cups, slaw and herbs………….. hell let's just have both!!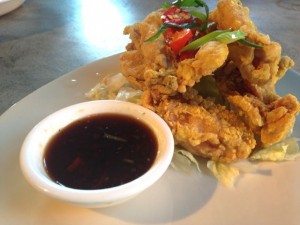 We get ourselves into a booth and then settle in for a very lazy Sunday = let the feasting commence! Fried chicken ribs with chilli and garlic. Amazing, spicy, punchy, crunchy happy chicken wing lovers all around!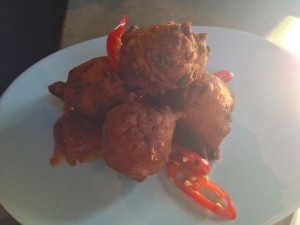 The zucchini and tofu fritters with chilli jam are super delish, perfect little pillows with a great smack of chilli sauce.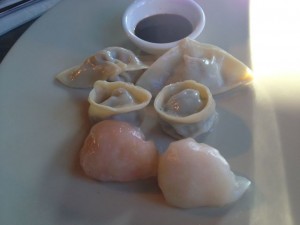 The steamed dumplings were perfectly executed and jam packed full of flavour with duck and lemongrass, prawn hargow and 3 mushroom and chestnut – textbook amazing.
The Shaoxing cured salmon with cucumber kim chi and rice crackers was indeed a cracker, lovely fresh salmon and cucumber kim chi.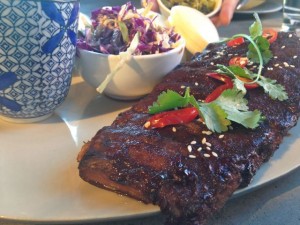 But that's all very nice but lets get serious, the Hoi Sin sticky rack of pork ribs with creamy slaw – HELLOOOO BABY!!! You seriously can pull the bones out of the meat and just break it down with a fork to then put into the super soft little bao bun with some amazing creamy slaw….. Cue Homer drool!
And then you have the slow braised lamb shoulder with lettuce cups, slaw and herbs…………..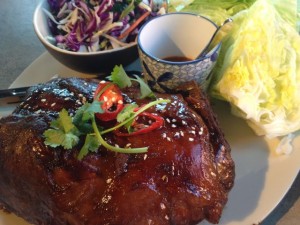 Could you beeee any more tender! It was the most amazing dish, partnered with some fantastic wine and beer recommendations from Dan the Man, it was once of the best meals I have had in a very long time, probably why they couldn't get rid of us for 7 hours!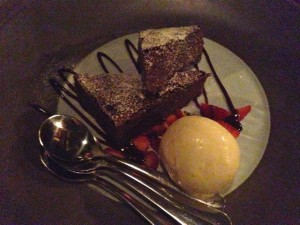 We squeezed in a warm chocolate brownie with vanilla ice cream for good measure and then remembers it was Sunday and we all needed to head home before Dan brought out any more good tequila!
Thanks to everyone at The National – you are the best!
——————————
Food 10/10
Service 10/10
Music 8/10
Toilets 8/10
——————————