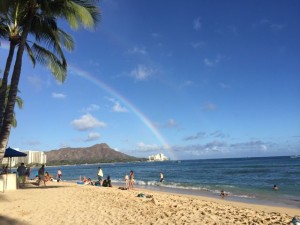 Aloha!! When on a wonderful lazy holiday in Waikiki, Hawaii I can recommend a few good spots to eat and drink.
Arancino
A totally cute Italian pizzeria with red and white checked tablecloths, great food, friendly smiles and a reasonable bill at the end. The menu offers all the faves, good, traditional pasta and pizza and a very lovely cocktail or two. Wine by the glass is solid Italian with the reds covering Chianti and Barolo.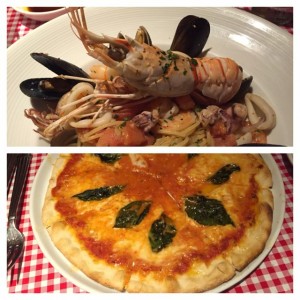 The margarita pizza was thin, crispy, cheesey and good, the seafood spaghetti looks impressive when it arrives at the table and it did not disappoint, packed with clams, mussels, prawns and a whole shrimp on top it was a generous dish in fish and flavour.
The Yardhouse
Beer and burgers, The Yardhouse is a family sports bar with big screens, big menus and a crazy big selection of beers to choose from.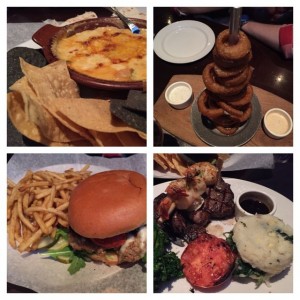 The menu is a tantalising list of dips, rings, ribs, burgers, tacos and so much more. Trying not to over order here is a real problem when you can get the most amazing onion rings and thick cheesey queso dip to start with. The surf and turf was nice enough, decent steak. Well cooked and the cheeseburger for lunch another day was delicious.
Il Lupino
The son of Wolfgang has a little spot nearby and they are offering wholesome Italian. We scored a fantastic table in the front outside and felt very smug and then we sat there and unfortunately were ignored for the next fifteen mins….. Nearly ready to head off the lovely Daniel appeared and turned the whole experience around, beautiful bread, carafes of wine, friendly banter and the most beautiful tomato, basil and Mozzerella caprese salad were swiftly delivered after several apologies.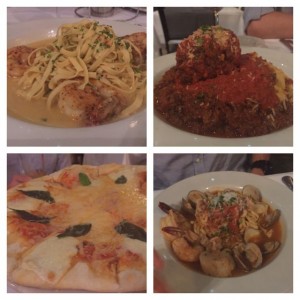 Mains were generous with a bolognese and optional baseball size meatball for everyone to try – sensational sauce! The pizza went down well and the Gamberoni alla Siciliana pasta in garlic, chilli and white wine with shrimp was exceptional, perfect al dente linguine with hearty fat shrimp and a perfect balance of my favourite flavours.
Wolfgangs Steakhouse
The big boy in town, serving steaks – big fat juicy steaks! The menu is a fair size offering all types of steak, lobster and more but we are all about a succulent, perfectly cooked steak and a good glass of red. Our server John is a star, honest, friendly and fun. He helps us work out the right amount of steak – steak for four for four might be a bit much with a few sides so we gratefully do the steak for three for four of us!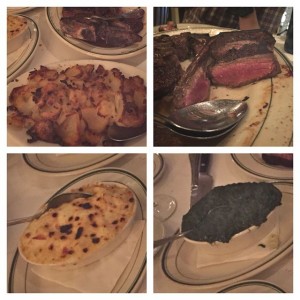 And the lobster mac and cheese …. And the creamed spinach … And the German potatoes. The steak arrives swiftly, still sizzling in the butter and the perfect pink for medium rare. Two good bottles of red, the list doesn't hold many bottles under the $80 mark but Wolfgangs is not known for being a cheap spot to grab a bite, you go here knowing that you will have an exceptional dinner and you will pay the price for exceptional. But it is totally worth it. The steak was melt in the mouth, delicious, that caramelised char that you can only dream of creating without a 1800 degree broiler, gnarly and dark on the outside but soft, buttery, pink meat in the middle. Sides made the meal complete with the most amazing lobster mac and cheese, the creamed spinach was not something I had had before and went perfectly with the steak. German potatoes are kind of sliced potatoes cooked to a lovely super crunchiness. All round amazing meal, just as it promised it would be.
The Cheesecake Factory
The much celebrated, recommended and loved Cheesecake Factory. Known for it's very long line of people patiently waiting with their beepers outside and amazing food including a list of about fifty cheesecakes inside. We knew the deal, get there, accept the hour long wait and take your beeper across the road for cocktails at. Jimmy Buffets. And so we did, the buzzer went off earlier than expected and made it past the recommended range across the road. Once in you wait again for your table and server to be assigned and then you walk…and walk…. And you get a real feel for the size of this place, the kitchen pass is huge and must have twenty people churning plates out. We get a nice table and our server, a bit robotic but ok.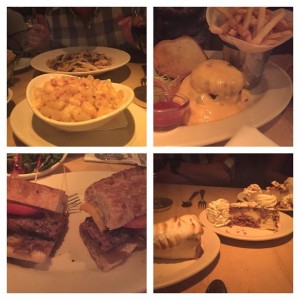 Drinks, bread, water all good and we navigate the crazy big menu offering. Pretty much, you can get whatever you want here including those cheesecakes. We agree just to order mains so we can go for the cheesecake. So easy – burgers and pastas. The pasta was a huge portion of good chicken and mushroom penne. The mac and cheese burger looked immense and oozing cheese like a gooey lava on the plate. The American with cheese, salad and some crisps looked damn good and then my factory burger arrived – the epic fail! So when ordering your simple burger in TCF you get asked a fair few questions, often there is the choice of how it's cooked, the bun, the cheese, the sides – the robot asked all the right questions but at no point did he ask do you want your average burger on a baguette…. Who does that?!?! Even worse the medium rare was really rare and stone cold, barely seen the grill. Disgusting. So the robot took it away and when everyone else had nearly finished and donated food to me it arrived…. Over cooked. It was the worse meal I had in our time here. Worse still when the robot took the plates and I had taken barely two bites he asked if I wanted to take it away rather than acknowledging that it obviously wasn't enjoyed and let's face it, it wasn't a burger!!!
The cheesecakes were ok, kind of mass produced, fakey squirty cream, massive portions – more quantity than quality.
The Shorebird
Our hotel bar, restaurant and karaoke hot spot, there is always something good at the Shorebird. The breakfast buffet will set you back $14.95 and is a never ending parade of fresh fruits, pastries, eggs, bacon, hash brown and the odd whole leg of ham or roasted turkey! It's generous and if you are a big eater I am sure this will set you up for the day.
The Kani Ka Pila
The Outrigger Reef Hotel pool bar is my favourite place on earth! Well it was for the two weeks I lay next to the pool and they brought me afternoon Mai Tai's and crunchy coconut shrimp and cold beers and lunchtime burgers that were one of the best we had.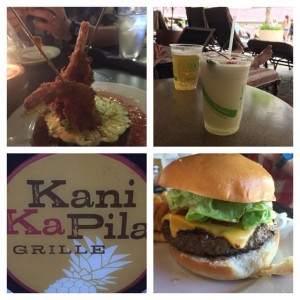 Generous fish and chips, chicken and fish burgers and onion rings hmmmm all delivered to your sun bed with a smile and a charge to your room!
Bahu
Mexican fusion rooftop bar – this place has a lot going for it, great fit out, great location, damn good cocktails and a great menu. We had drinks one night and came back for dinner the next. The smell of Mexican spice and cheese filled the air and we were excited.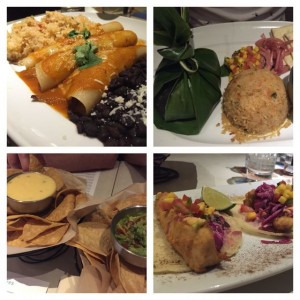 The queso and guacamole with corn chips were authentic and delish. The fish tacos were generous and I totally didn't need the side of rice and beans but only $3! Super filling, super tasty. Everyones dishes looked great. Prices were getting up there and the service was a little haphazard but still a good spot.
Jimmy Buffets Cocktail Bar

The logical waiting spot for the dreaded Cheesecake Factory, this place is a hoot! Get in the lift and go up onto a massive mezzanine bar area with live music and then into the bar and restaurant area for cocktails, Pupus (Hawaiian for bar snacks) and some good looking bigger dishes.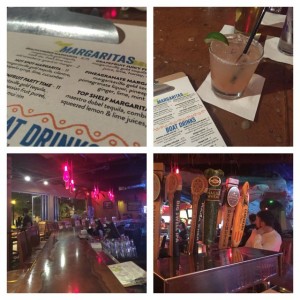 We didn't eat but the grapefruit Juicy Fruit Margerita was so good we had two!
Hula Grill
A perfect table on the balcony overlooking the beach, service was a little flat but the food was fantastic. Plenty of choice across the menu, fish a feature and our baked oysters with spinach and cheese were sensational. The crab and macadamia wontons were a generous basket of crispy triangles filled with creamy crab and nut.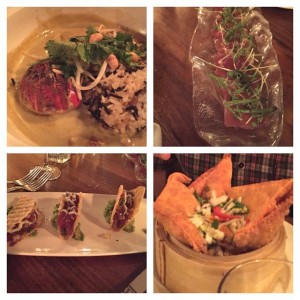 Super fresh ahi tuna sashimi was simple and delicious. For mains there were several fish options with crusts and sauces galore – so hard to choose but the fish chowder was my favourite. Packed with prawns, mussels, fish and a half lobster tail. Rich, creamy and decadent I felt very spoiled.
Ruth's Chris Restaurant
Strange name, great place! Rivalling Wolfgang's on steak, prices and service this was up there with Wolfies. The menu offered a range of dishes across appetisers and mains but we are all up for the steaks so no room for starters.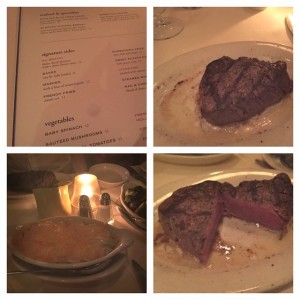 The fillet was perfection, big, juicy, charred and as promised rosy pink inside. Sensational with the pepper sauce and the amazing creamy mac and cheese and the potatoes gratin. Cheeky side of brussell sprouts with bacon and a lovely Pinot and we are in heaven.
Hard Rock Cafe
Just as you would expect, big, loud and fun. Live bands, friendly staff, hardcore margaritas and the menu looked good though we only had drinks.
Denny's
It has to be done! Ok the coffee is rough and the portions are big, everything comes with bacon or cheese though they do have lighter options for those not wanting to consume all their calories for the day.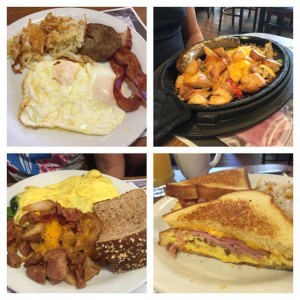 I have to admit on a morning after a bit of karaoke you can do a lot worse than a Denny's Grand Slam or a Slamwich or a stack. The French toast slam was immense with bacon, sausage, French toast and eggs. It's cheap, cheerful and wholeheartedly American.
Roy's
Popular spot with a $50 chefs tasting menu it should be! You start with the spring rolls, prawn skewer and the rib. Mains you can choose but the slow cooked ribs are a very popular choice and the salmon I had was sensational with pickled cucumber and soba noodles.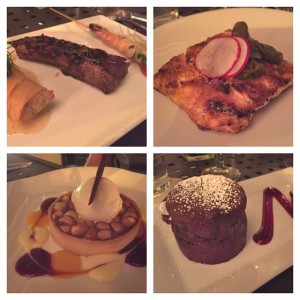 But forget all that …. I would pay just for the big, oozey, gooey mega self saucing chocolate pudding! The macadamia nut tart was a close second. We left with happy smiles and full bellies.
Ocean House
Another beautiful table looking out over the sea and ready for the Friday night fireworks. Ocean House is the fine dining option in the Outrigger Reef Hotel and it scored high with us all for setting, service and taste. The theme is fish and steaks but there is a big menu to choose from.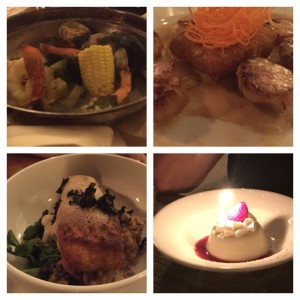 The Patron Mango margarita was a great way to start and we have barely got our order in before we all pile onto the beach for the oooohhhs and aaahhhhs of the Hilton Hotels fireworks. The scallops with a risotto cake were gorgeous and the boys Clam Bakes looked fresh and generous portions of prawns, mussels, lobster with sausage and corn cobs. For a special birthday girl treat they brought out a complimentary pannacotta with a candle and even took a picture and printed it straight away with a lovely card – nice touch!! It was a memorable night for all the right reasons.
Mahalo Waikiki we miss you already!