Lazerpig, Lazerpig…. Feels like it should have a theme tune! Love the branding for this place, it's fun, funky, has the world's biggest glitter ball and is serving up pizzas for the Smith Street hipsters.
Start with a little Antipasto, prosciutto, garlic focacoa, whitebait or……. Mac n cheese croquettes with basil pesto.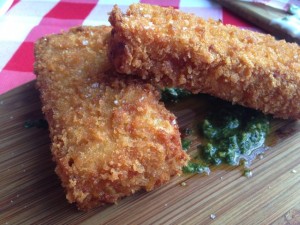 They looked damn good, all crunchy and crispy with super lovely mac n cheese inside but they were a bit tasteless, no big smack of cheese in the face! The pesto was great.
The Southern fried chicken wings with house made ranch sauce, again looked super crunchy and delish but were just a bit lacking in the big flavours expected.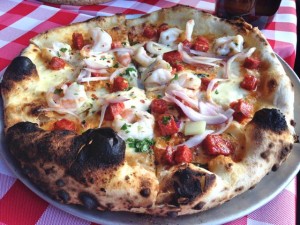 The pizza special for the day was prawns with chorizo and garlic and chilli – why the hell not! I usually avoid a prawn pizza on a delivery but as we are in house I give it a go. The pizza bases are lovely and thin and toppings are restrained. The prawns are lovely and plump and great and the chorizo is hearty and there are some great flavours going on but we had to admit that edge was definitely heading to the burnt side!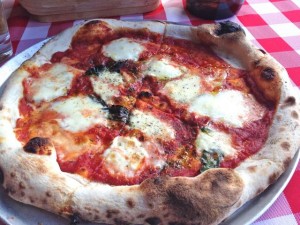 The Queen Margherita with tomato base, fior di latte, buffalo mozzarella and basil was nice, fresh, cheesey and enjoyable. Only made even better with a can of Cuca anchovies – I love those little fishes!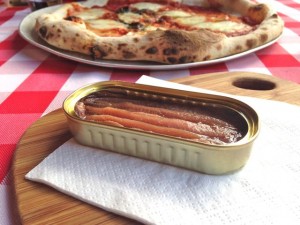 It's a great spot for lunch, probably need to ramp up the flavours a touch but service was friendly and it wasn't a bad place to spend a Saturday afternoon.