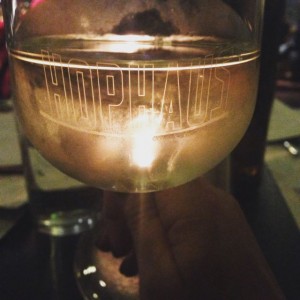 Oh how I love a Jägerschnitzel I spent a lot of time in Germany and finding a good one in Melbourne is not always easy but Hophaus nailed it and currently with their Daily Specials or 'Tagesessen' you can get a Schnitzel on Tuesdays for just $20 with a glass of wine or beer. So after a hard days work head down to the river and avoid all of the tourist trap restaurants and get yourself into the friendly, fun Hophaus for good beer, good food and good times.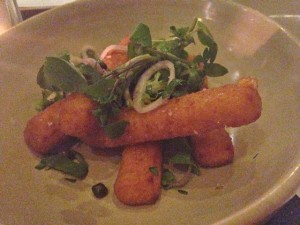 We have been a few times and on a sunny afternoon there is nothing better than a table on the balcony and a platter of sausage and sauerkraut but even on a cold winter night the tarps are down and the heaters a rammed up and the atmosphere is great. We enjoyed a spot of Bitburger and Gruner and some delicious cheese sticks whilst waiting for our friends and then the feasting began!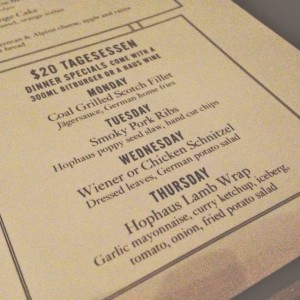 So Schnitzel night can be one of the three on the menu;
Jägerschnitzel
Mushroom sauce
Wiener Schnitzel
Haus vinaigrette dressed leaves, German potato salad, grilled lemon
Chicken Schnitzel 26
Haus vinaigrette dressed leaves, German potato salad, grilled lemon
I am sure they are all fabulous and on the regular menu they do come in a Giant option!! We are all in for a Jager and some Brussel sprouts and Käsespätzle, mac & cheese, onion! The schnitzels are great, the comforting, rich mushroom sauce makes my night! The wine and beers are flowing and there is a fantastic, happy buzz about the whole place.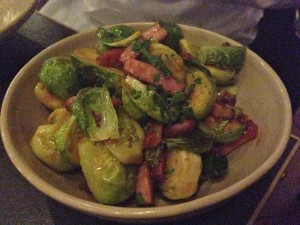 The Brussel Sprouts, smoked bacon are sexy as! Who knew you could make the humble sprout so god damn hot!!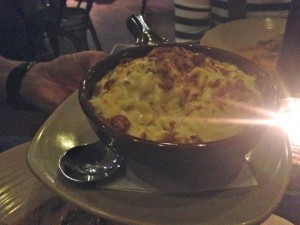 Käsespätzle, mac & cheese, onion in its romantic candlelight was decadently delish and there was nearly a fight for the last spoon.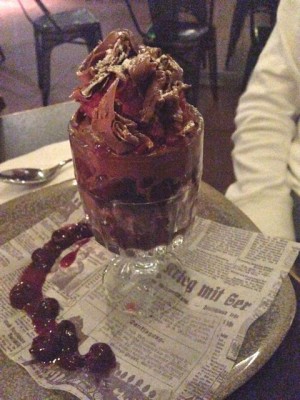 But that's not all – there is a dessert menu of epic proportions strudel, blackforest cake and more – hubby was on a mission and ordered the modern take on the black forest just for him… four spoons please!! it was sensational!
It was a great place, it's somewhere you can spend a lot of time and drink a lot of beer!
The 'Tagesessen' $20 Daily Specials currently include;
Monday
Coal Grilled Scotch Fillet, Jagersauce, German home fries
Tuesday
Smoky Pork Ribs, Hophaus poppy seed slaw, hand cut chips
Wednesday
Wiener or Chicken Schnitzel, dressed leaves, German potato salad
Thursday
Hophaus Lamb Wrap, garlic mayonnaise, curry ketchup, iceberg, tomato, onion, fried potato salad
We'll be heading back for those ribs very soon.
Head to Hophaus – it's a happy place to be!
——————————
Food 9/10
Service 8/10
Music 7/10
Toilets 8/10
——————————