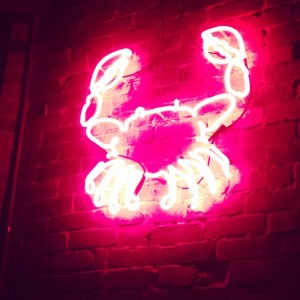 We got Crabs!! Well Katie has! Great big beautiful, juicy crabs!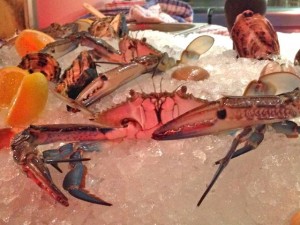 On a cold Melbourne night we head down Johnston Street, the right way despite Google maps trying to steer us the wrong way, and we hit up the Rochester Hotel, now home to the best crabber in town. The old pub has a warm feel to it with exposed brick, dim lighting and old fashioned pint glasses it has a lot of character.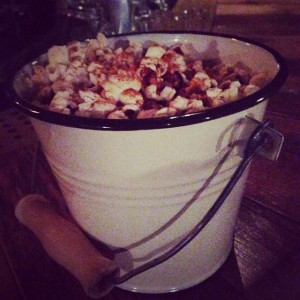 The staff are super lovely and helpful, even on a Tuesday there is possibly a 45 minute wait for a table but the bar is warm and the service fast and we have a bucket of savoury Old Bay Seasoned popcorn and a glass of wine before we know it.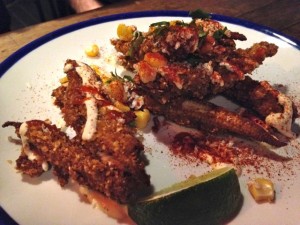 You can get food in the bar so no sooner had be grabbed a seat our crunchy corn with salted ricotta and lime chipotle crema – OMG so amazing, I loved this with the spice and warmth of the chipotle and the mega crunch – corn smashing it!
A table was available before the boys had barely finished their 'picklebacks' I sense trouble! With a reasonable sized indoor area and a outdoor area too for warmer nights there is plenty of room for everyone even with all the hammering and snapping of crab going on and crab shell flying around!! The lighting is nice and soft and as I don't use the flash and annoy everyone else the pics probably don't do dinner justice but it was soooo good!
The menu is all about the crabs but there is plenty of other food groups to choose from with school prawns, deep fried dill pickles, crab sliders and Sailor Jerry Spiced Rum glazed chicken wings available to start and in the bar you have to be careful not to load up too much on all that good stuff before you git the crab boil and mains. Enjoy a crab boil with optional extras of mussels, prawns, clams or oysters and then there is….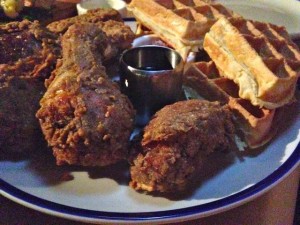 Fried Chicken with Waffles (or mash and gravy) or succotash or for those who can resist – the grilled chicken cobb salad. Sod it, I am having my treat night on a Tuesday and having the crab – which is healthy and a sample of fried chicken and waffles!! Sides are not the usual suspects with house made pickles, Old Bay seasoned fries with blue cheese sauce and freshly baked cornbread.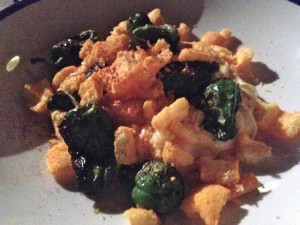 (Not my best piccie!)
We start with the special of the night – Cheese Whizz………….. holy cow my weakness! Cheese manipulated into the thickest, richest, creamiest, cheesiest dip in the world and then studded with padron peppers and some sort of amazing cheesey fluff! It was sensational, unfortunately in the padron roulette the hot one went to the lowest spice tolerant person but there was cooling cheese whizz to numb the pain! Perfect to dip your wonderful Old Bay seasoned fries in too, some crazy fool tried to take the dish away before our cornbread arrived – he looked quite scared when we all piped up to keep it!!
I really wanted the ribs and more but that crab boil sounds pretty substantial with a whole organic Blue Swimmer, corn cobbs, spicy kransky and chat potatoes… oh yes! I have a hammer, cracker, a poker and a bib… let me at it!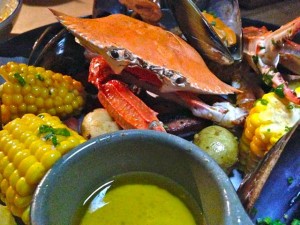 It was beautiful, that sweet moment when you do all the hard work and carefully pull out a perfect piece of meat….. so satisfying. The crab is sensational, juicy, moist, fresh and packed full of flavour. Barely need the corn, sausage and potatoes but we all tried a bit of everything and it was a very successful crab night – even me who hates getting her hands dirty got into it and got messy and really enjoyed it, though it was nice to get to the sink placed especially for you to wash yourself down afterwards.
Service was lovely, prices were good, it was the best night I have had in ages – Fitzroy you win again!
——————————
Food 9/10
Service 9/10
Music 7/10
Toilets 8/10
——————————