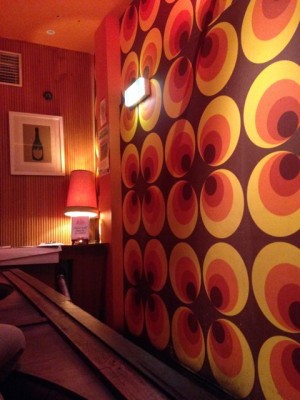 I wasn't convinced that the Ding Dong Lounge had a new Louisiana restaurant on site so when we ascend the stairs and see what an amazing job they have done to convert the space, where previously you might have queued up the stairs to get into a gig there is now the cutest little intimate space ready to serve up some good old Southern charm.
In late 2012, Ding Dong owner Bill Walsh set out on what has become a two-year journey to open Melbourne's first authentic Louisiana kitchen. Walsh believes that in addition to sharing a rich musical heritage, New Orleans' and Melbourne's culture are also closely linked.
Menu options include shared plates of an amazing looking Spinach Madeleine Crab Dip, Seared Sea Scallops, Hefeweisen Shrimp, braised corn dish with goat cheese stuffed zucchini flowers or a Louisiana Shrimp Cocktail. Yes!!! There are salads, po boys, a crystal hot sauce burger, Louisiana pulled pork and for dessert………………. Creme brulee, ice cream sandwich or New Orleans bread pudding …. Ooohhhh!!!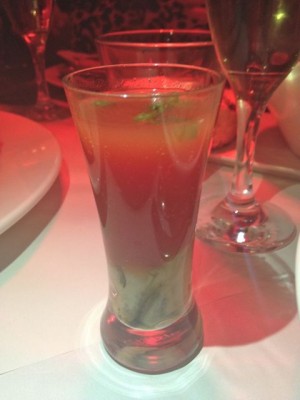 Oysyer Shooters to start – yes sir! Raw oyster served in a shot glass with vodka, tomato juice, horseradish and green onion – fabulous, could have gone a few more of those.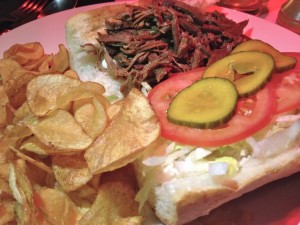 Hubby went for Mama Leah's Roast Beef – braised in Turbodog beer, beef shoulder, gravy, dressed or undressed on po boy bread. It was a big plate of fun and exactly what Hubby was after and there wasn't much left on the plate.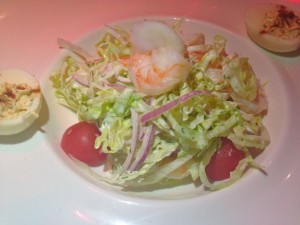 The Cajun Shrimp Salad with a generous amount of Boiled shrimp, shredded lettuce, red onion, deviled egg, cherry tomato, dill buttermilk dressing. I loved this dish, I was trying to be healthy and this wasn't a bad option, there was plenty of super fresh, firm shrimp – not a poo shoot to be seen! Fresh, zingy, loved the eggs. All round happy foodie!
Be warned, Ding Dong is still very much a gig venue and The Gris Gris shuts down at 9pm so if you are there near this time, depending on the gig the restaurant will start to see groups of goths, hipsters, rockers or other fans trailing through getting ready for their night to start. It is excellent people watching!
We had a lovely time, we had a little touch of Louisiana and I would definitely head back for some more.
——————————
Food 8/10
Service 8/10
Music n/a
Toilets 6/10
——————————