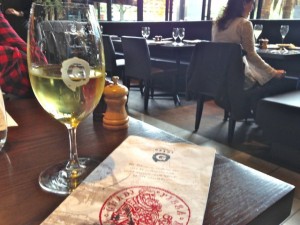 Gradi's big brother at The Crown it super shiny and massive! With two huge pizza ovens and a great big bar with bowls of mozzarella balls and hanging hunks of meat. It all looks super delish. We arrive early on a Sunday and it's nice an quiet, within the hour it is packed full with big tables of families celebrating and eating! Mangiere mangiere!!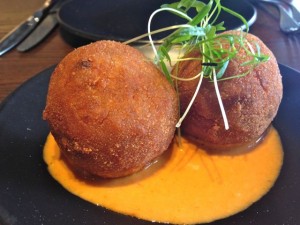 The arancini with pork sausage, pea and mozzarella in a delicate crumb coat and a spicy rose sauce – so good! Big, meaty balls and that perfect sauce – a wonderful dish.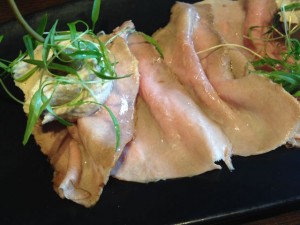 Vitelli Tonnato – rosy pink blushing veal with creamy tuna mayonnaise. What a gorgeous dish, the veal is beautiful and that mayonnaise is a perfect partner – hubby loved this.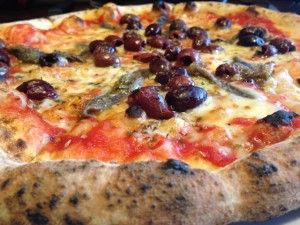 The Napolitana – San Marzano tomato, fior di latte, anchovies, olives, oregano is a glorious pizza. Incredibly thin base and the perfect scattering of toppings to make an all time great pizza, nearly lost a tooth on an olive stone but it was delicious. Those fishy anchovies packed a punch and went perfectly with the salty olives and cheese.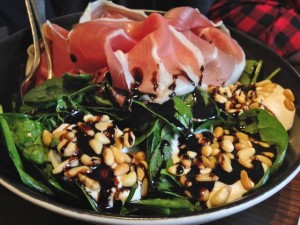 The special salad a a very generous bowl of fresh spinach with a creamy cheese covered in pine nuts and thick balsamic. It was absolutely gorgeous and a perfect side to our pizza. It was so big we couldn't finish it!
Gradi at Crown is a different beast to the little family pizzeria on Lygon, it's a big space powering out great food for a lots of happy people, it's not cheap but it's damn good!
——————————
Food 8/10
Service 8/10
Music n/a
Toilets 8/10
——————————