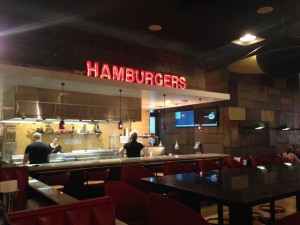 It's burger time in South Yarra, Brother Burger and the Marvellous Brew have opened up shop on Chapel Street in a fantastic spot, it's a big space with red leather booths and a crazy amount of meat grinders lining to the walls for a unique decorating style. There is a big bar and open kitchen in between the eating space and you can see those burgers and fries coming together and the guys taking a break and enjoying a burger too – always a good sign 😉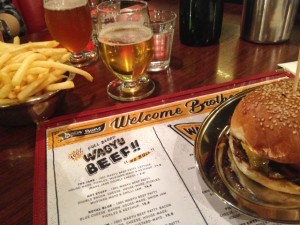 We have been invited down to try out the Brother Burger offering and it took about two seconds to respond – "Hell Yes!!" We would have to be a looney toon crazy fool to turn delicious burgers with a cold beer and some of the best onion rings in town!
The menu is huge, there are 11 burgers to tantalise you with, good old 100% Wagyu Beef teamed with the usual suspects, or some spicy friends or you can go off and explore lamb, chicken, mushroom – they are all there just waiting. You can trick up your burger with a selection of extras across cheese, bacon, pineapple, jalapenos, spinach and much more. I am not a fan of the over pimped burger, no beetroot, egg etc though I love a good triple sauce and pickle!
The Jane is the basic classic burger – patty, lettuce, pickles, mustard mayo and ketchup. From there you can go wherever you like, cheese please! Janes nemesis is The Lot with patty, bacon, egg, cheese, pineapple, lettuce, onion jam, pickles, mustard mayo and ketchup …. I don't think I could even pick that up!!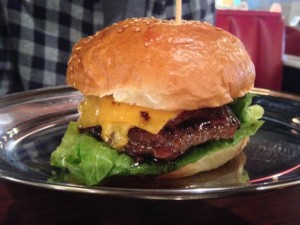 So hubby went for The Jane with cheese, a good choice. Beautiful, perfectly grilled burger with a touch of pink in the middle, great bun and perfect balance of accompaniments. Happy Hubby!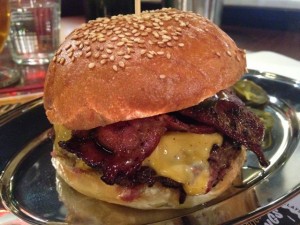 The Hot Stuff is a 100% Wagyu Beef Patty with double bacon, chilli jam, cheese, pickles, mustard mayo and jalapenos on the side YUM!! Not a huge fan of bacon in my burger but I kept it in half and I get why people love it, especially when it's really good bacon cooked all crispy and naughty. It wasn't super hot, so don't be scared, in fact I just chucked in all the jalapenos and it was great. Such a good burger, great taste, great bun and all round really enjoyable.
The Onion rings are spectacular, so very, very, naughty but a little ring of golden, crispy, fried onion loveliness won't kill the Fitbit – just walk home to balance it back out – it is SO worth it.
The staff are lovely, everything in under control and they calmly move around bringing cold beers and hot burgers to the lucky patrons of Brother Burger. Don't miss out on their extensive list of beers too, it's a pretty good afternoon with your Bro!
——————————
Food 9/10
Service 9/10
Music 8/10
Toilets 7/10
——————————