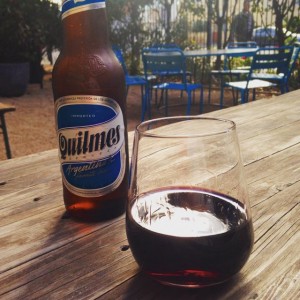 On a rare sunny Winter weekend afternoon we were drawn into Corte, Latin kitchen and bar in Port Melbourne with the promise of a suckling pig roll and a cold beer – or at least hubby was, it was like one of those old cartoons where the cat gets a whiff of crackling and gets carried off in search of the source. Fortunately we managed to hold onto him and settled at a table in the sun, we still had our coats and scarves on but it was so nice to be outside and the guys were happy to light the fire inside or put a heater on for us outside if we needed it.
Corte is such a beautiful old building, it's been a few things over time including a Post Office, a Courthouse and even a garden centre way back when. Inside it's like a Spanish hacienda with exposed walls and cute wooden furniture and there is a real cosiness to it, even with no one in and the fire only just getting going.
The menu is Latin flair and fun with Para Empezar including a beautiful selection of meats, pickled veggies and olives. The Raciones include a baked Woddside Chariston brie with hunks of sourdough or albondigas or croquet or a house made rabbit merguez sausage. Bigger dishes can include tacos, a chimmichurri hanger steak, slow cooked beef brisket and on Saturdays the chef gets the BBQ going and there is that suckling pig going from 1pm.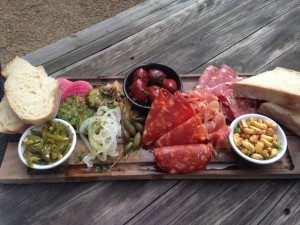 So hubby is set on the little piggy that went to South America and got put in a big roll! I went for the Para Empezar Platter to share whilst piggy is making the final turns. It was just gorgeous. Decent serving for the price, four big hunks of sour dough, piles of wafer thin meats, pickled mushrooms and capers and onion rings and the biggest, fattest olives! I loved, I could have been anywhere in the world with my glass of wine and delicious nibbles.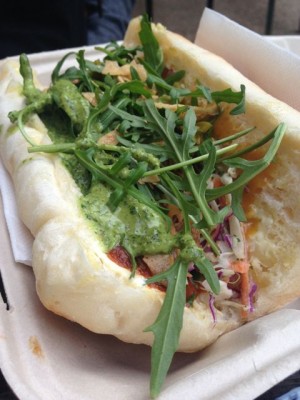 Hubby made a good dent in the platter before the box of joy arrived, within was a big ass roll packed with lots of sauciness, rocket and that delectable piggy. No crackling but the boy definitely enjoyed!
It's a nice place, we were there when it was pretty quiet and everyone was really friendly whilst they set up for their Saturday. I can imagine it is definitely a great spot to get a steak and a good glass of Malbec. Good to note Tuesdays is Malbec and Steak nights at the moment, $50 for two 500g Sirloin steaks and two glasses of 2012 Mendoza Malbec.. as if you'll just have one!!
——————————
Food 8/10
Service 8/10
Music n/a
Toilets n/a
——————————