The George has been up and down for a while, a great spot over the Summer to sit outside with a cold cider, sometimes the food hasn't been great but today on a cold Saturday morning there is a fire and a new menu to explore. There are plenty of options to choose from, burger for the hungover one, big bowls of pasta for the ravenous one, quinoa salad for the heathy one and a big bowl of comforting soup for the very healthy one.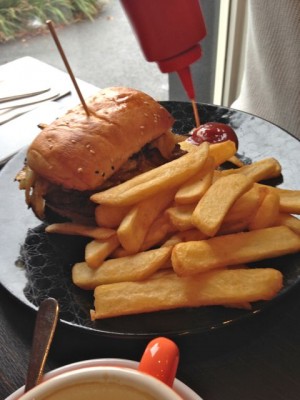 The burger went down well, wasn't in hubbies top 5 but it was a respectable patty, good bun and great fries to steal!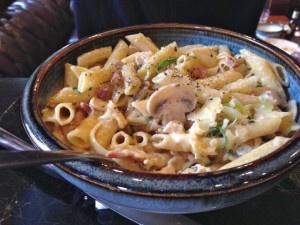 Damn good bowl of hearty pasta, bacon, mushrooms, parmesan and cream – winner!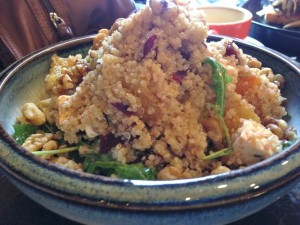 A substantial serve of quinoa, beetroot, pumpkin, rocket, Persian feta with a light apple dressing – portion control to the wind but looked like it went down very well.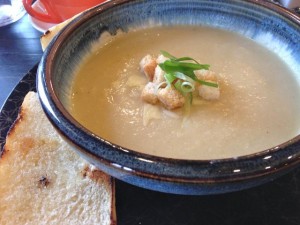 And then my humble little bowl of soup, I would never normally order soup at at pub lunch but keeping the calories to a minimum this was a beautiful soup. Served with crusty bread (I had a little nibble!) and a cheesy floating crouton, it was fresh, wholesome and I loved it.
It looks like The George is on the up with the new menu powering home and always a great spot to grab a drink.
——————————
Food 6/10
Service 6/10
Music n/a
Toilets 6/10
——————————
*********************************************************************
Last published 8th September 2011
There are no white table cloths or sommeliers to be seen, this is a good old local pub with rugby on the tv and a respectable menu of traditional parmas and burgers as well as plenty of other dishes to suit all tastes.
A good choice for quick, good food, The George has greatly improved from the dodgy old mans smoking pub that is once was! Now more that three old men want to go in it!! We have enjoyed many a pub lunch and brunch and the staff are always polite and friendly, table service is great and the open chicken sandwich with pesto is a fave!
Tonight we are soaking up the day at the races with a good old parma and a burger!
Now my excuse to dodgy pics today is that we were sat at a perfectly lit table but we moved away from the 25 rowdy drunks next to us singing along and causing chaos!
Instead we enjoyed a bit of the rugby and though we had to wait a while for food I can confidently say it was because the kitchen was getting their boys their dinners sorted out so they too could soak up a bit of the beer in their bellies!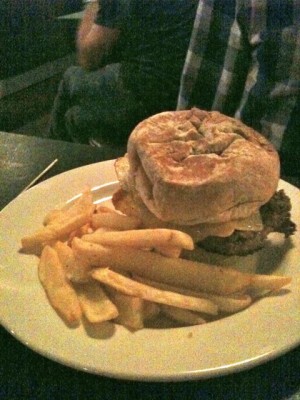 The burger is big boy packed with egg, tomato, lettuce, chutney and served with a great big pile of chips, it isn't a dish for those with a delicate little appetite, this is mans food!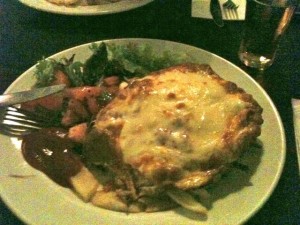 The parma is again a hearty serve, plenty of chips (though a little soggy under the massive parma!) a good salad and a reasonable parma.
It's good value, easy going and the lads look like they have had a great time! A good local that I am sure we will be back to visit again.