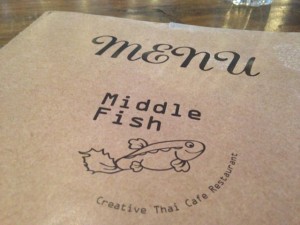 Middle Fish brings the vibrancy of the Thai café culture to Melbourne. With a focus on authentic, Southern Thai cuisine as well as an emphasis on interior design and service, Middle Fish offers something distinctive for Melbourne's café culture.
Middle Fish is a welcome sight at the end of a super long work, I have earned my calories and worked up quite an appetite. The word I would use to describe Middle Fish is 'passion'. The guys love what they are doing and they are so nice and friendly. It's a very chilled atmosphere with a boho feel and we are happy to crash on the big communal table and start working through the huge menu.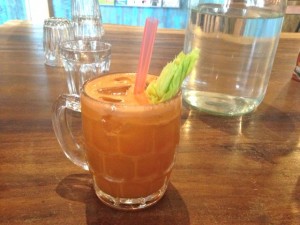 A healthy fresh juice with watermelon, mint and lime goes down brilliantly with a big jug of water and the negotiating starts… I want it all!! The beauty of social media is you can be out walking and someone posts a picture of a sensational looking poached salmon salad and you start to steer your walking buddy in the direction of Carlton. The menu at Middle Fish is mouth wateringly fabulous, pho, satay, curry, roti, salad and so much more I tried not to over order but imagine reading this;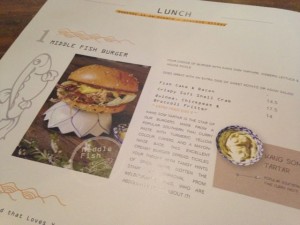 Oh yes, how can you say no?! Poor hubby still hasn't had a respectable soft shell crab in a roll so Middle Fish need to deliver on this one …. and they so do!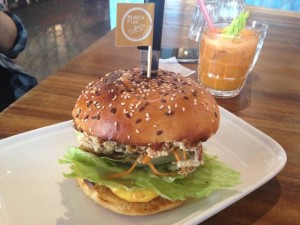 Bloody amazing! I claimed I was only having a bite… or a quarter…. nah! I had half! It was so delish, perfectly cooked soft shell crab with lots of creamy, spicy… perfection!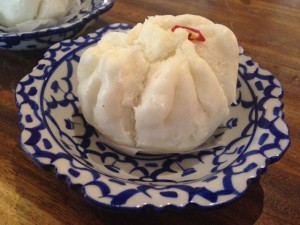 I like Pork Buns and I cannot lie! And what is better than a traditional BBQ pork bun? A Middle Fish Spicy Bun and this bun bites! Super soft and fluffy and filled with the most perfectly spicy minced pork, that balance of your lips humming and your nose running without you losing the ability to feel your face. LOVED this little bun.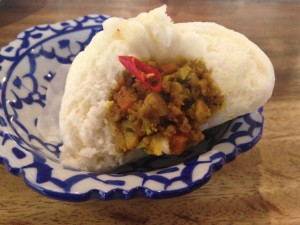 I mentioned the guys here were nice, they were so nice the owner Pia even popped up and offered to take our photo! Little did she know she was taking pictures of her newest biggest fans!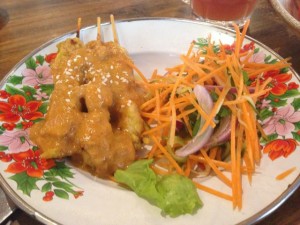 The chicken satay is text book lovely, good, moist chicken breasts skewered and slathered in a delicious peanut sauce. Yum.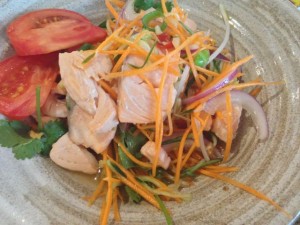 And the whole reason we are here, the stunning poached salmon salad, super healthy, gorgeous salmon and that salad is the most perfect sweet and sour balance that i can only dream of achieving at home.
Super happy with our trek to Middle Fish though I found out they deliver AAHHHHHH!!!!!
See you again very soon to try some more crackers on the menu.
——————————
Food 10/10
Service 10/10
Music n/a
Toilets 8/10
——————————
Click here to find out more from Middle Fish
******************************************************************************
Last Published 30th March 2012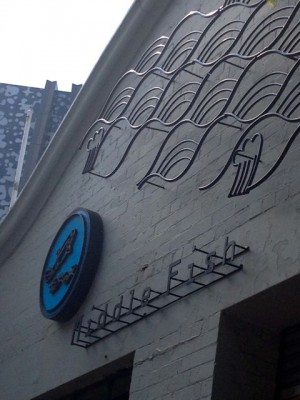 Carlton just got cooler – or hotter! Amazing Thai food has arrived with Middle Fish in a very cool conversion!
The menu is packed full of great sounding soups, curries, small bites and great specials like the refreshing Thai Style rambutan and pineapple drink served in a gorgeous silver bowl!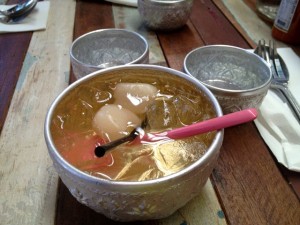 The staff are super friendly and the food is super quick! The special Thai Northern Style sausage with curried pork, lemongrass and kaffir is stunning! Packed full of flavour and perfect with the chilli dippnig sauce – happiness on a plate!!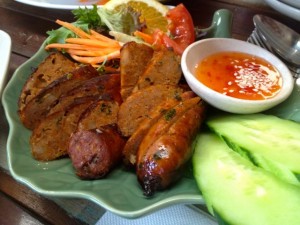 The Tum woon sen gai – glass noodle salad with minced chicken, carrot, cashew and chillies is fantastic, healthy, yummy and and just amazing!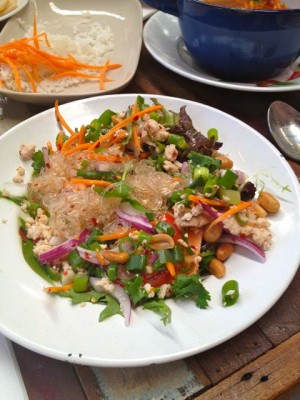 We are sat at our cute little flower seats table, it feels a little like the seats when you were kids and we are all tooting on our icy rambuntan drinks full of smiles – bring on the chilli!!
The Slow cooked pork rib curry with potato, green beans, kaffir lime leaves is a stunning dish! Slow cooked until falling off the bone, the pork is succulent and the sauce has a great level of heat and amazing flavour.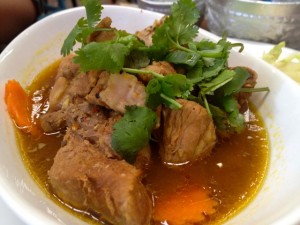 The Kam Song Goong in it's cute little enamel pot is a gorgeous clear sweet and spicy curry with Tiger prawns and cauliflower, carrot and lime. Juicy fat prawns with chunks of cauliflower dyed in the colour of the broth. Just fabulous!!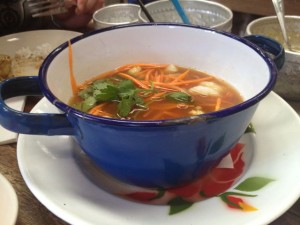 Finally a bowl of wonderful Green curry – we are all chilli fiends so we could have gone hotter but the flavours were textbook green curry with chicken and green beans is perfection!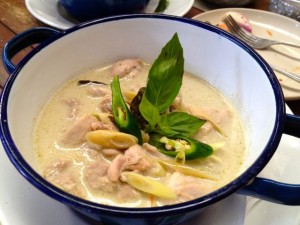 This place is serious! Seriously amazing!! We will be back very soon!