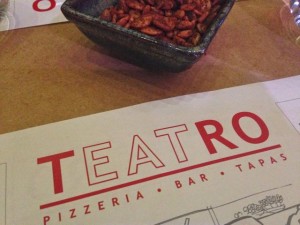 It makes me sad to have bad food but even worse it makes me angry when I have saved my food credits for the week and this is my 'treat' meal and it is a huge disappointment, even worse I saved my pizza credits! So it was not a good night at Teatro, there wasn't much to enjoy, we ate, we cringed and we ran (after paying the bill!). Could have just been a bad night for all, could still be new restaurant issues but I knew we were in the wrong place when I checked after 15 minutes on where our Prosecco's were and the guys face was so stressed, he eventually turned up with the below and a comment that he was sorry but they had ran out of glasses.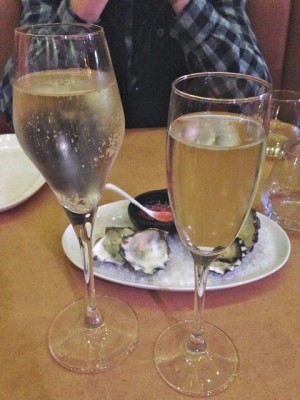 One lovely flute …. one target champagne glass!! How embarrassing! Oh well, they all taste the same when you sip them!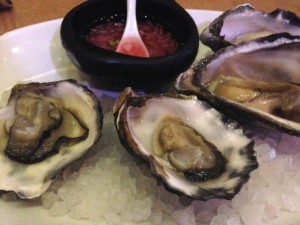 The oysters arrived before the bubbles and weren't completely shucked and had no natural juices left in them… sad, little dry oysters 🙁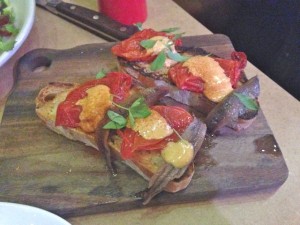 Anchovies on toast, burnt on the edges, he got two anchovies, I only got one… they weren't good anchovies.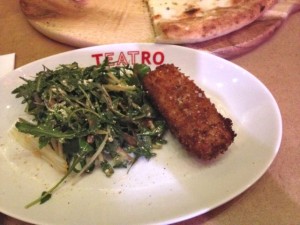 The jamon and manchego croquettes were salty and the lovely healthy rocket, pear and feta salad was so drenched in balsamic it was inedible.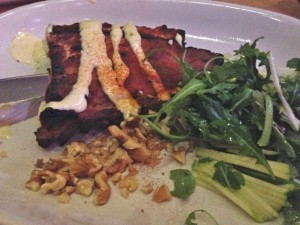 Pork ribs with slaw were dry…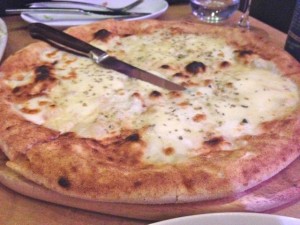 And the pizza… I love, love, love pizza and this made me want to cry. The base was floppy and when you picked up a piece it drooped sadly. It tasted awful…. it was a waste of pizza credits. Even better at this point they have tried to deliver ALL of the dishes at the same time to a tiny table for two….. just silly and not a nice experience for all your food to be going cold and balanced all around you.
As I always say, I don't like writing posts like this but it was one of the worst meals I have had since a trip to a certain spot near South Melbourne Market. Everyone has a bad day and I hope I just caught Teatro on a very bad night.
——————————
Food 3/10
Service 3/10
Music 2/10
Toilets n/a
——————————