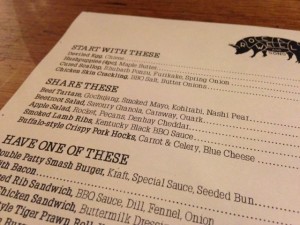 Sometimes you just need some salt, sugar, deep fried double patty smash loveliness! After a few happy beverages down the road we find ourselves are Rockwell & Sons, it's been too long and we all need some sustenance on a cold Friday night.
The menu is out of this world amazing and hands down not going to be within the calorie count for the day but lets have a night off and get our tater tots on! Would you like a Double Patty Smash Burger, a Pressed Rib Sandwich, a Fried Chicken Sandwich, or a Maine-Style Tiger Prawn Roll? Hell Yes! Would you like fries with that? Or Mac & Cheese maybe? It is all far too tempting for us healthy girls!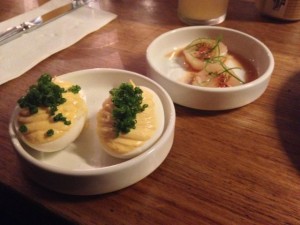 We start delicately with a Deviled Egg for one and a Cured Scallops with Tiger's Milk, cucumber, coriander for the other. For those not in the know, I looked it up! "Leche de tigre", or "tiger's milk", is the South American name for the flavourful, sour liquid drained from a good ceviche". So there you go! It was damn nice either way.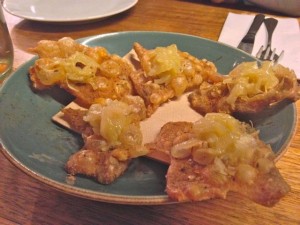 OMG Chicken Skins with BBQ salt and butter onions…. it's a step too far for me, the guys are loving the thick, fried, crispy chicken skins but I can't help think this is not a good step in a healthy direction…. boring and sensible old me!!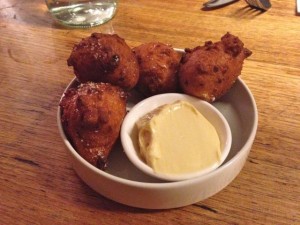 Hush Puppies with maple butter – another step well away from a fruit smoothie but it's friday night so lets enjoy deep fried savoury dough with super sweet whipped butter!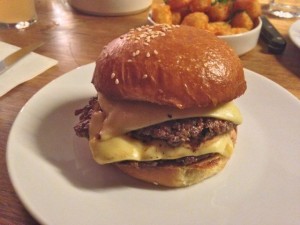 The 'Double Patty Smash Burger, Kraft, Special Sauce on a Seeded Bun' was a good burger, special sauce was nice and the burger was cooked well. Bit of salt happening but feeling all naughty and nice inside!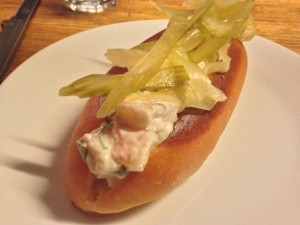 The 'Maine-Style Tiger Prawn Roll, Kewpie Tartare, Compressed Celery' was enjoyable, plenty of prawn going on, good fresh roll and you cannot go wrong without kewpie.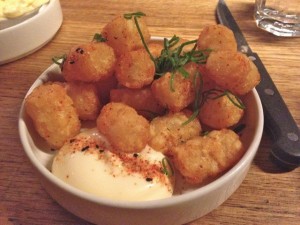 Tater tors – rock my world, lovely fried amazing, lovely, salty, sooooooooooooooo bad they are good.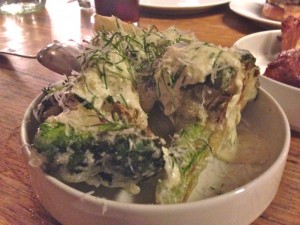 Crispy broccoli with pickled jalapeno and pecorino is a vague attempt at a healthy dish and it was fantastic!
I've had more calories, fat, salt and sugar than I ever allow myself and I'll probably regret it tomorrow but it was a big, hunky table full of America's finest brought to good old Smith Street.
——————————
Food 6/10
Service 6/10
Music n/a
Toilets 6/10
——————————
**********************************************************************
Last published 1st November 2012
One of everything please!! And with six 'happy to share' foodies at the table we pretty much do order everything on the menu!! Such a cool vibe going on here, it's dark, it's broody and it's BBQ time! You can clearly see into the kitchen and they are working their magic and the smells…. cannot describe!!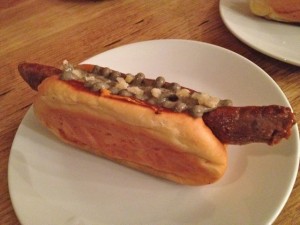 Important to note we shared the obscene amount of food that is about to arrive! The Lamb Sausage Dog with charred eggplant, harissa, aioli and preserved lemon is a winner! First place and stunning!!!
But quickly followed with the Double Patty Smash Burger with cheese, special sauce on a seeded bun and Pressed Rib Sandwich with bbq sauce, dill, fennel and onion ………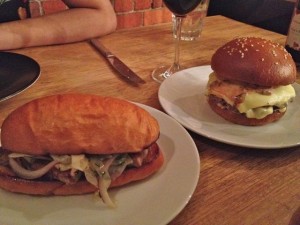 Sensational! So much flavour and BBQ meat – it's happy days all round!!
The Crispy Calamari Roll with kewpie tartare and pickled celery is fabo! Anything with Kewpie wins me over and this light and tasty and crispy is YYUUMMM!!!!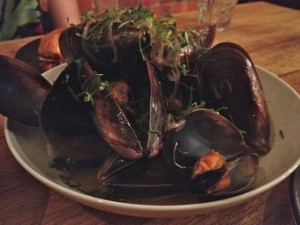 Kinkawook Mussels with orange marmalade and coriander are fantastic and a great one to share with everyone and a little bit different and lovely.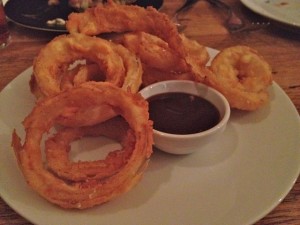 Hold the phone! Hickory Smoked Onion Rings with Dr Pepper BBQ sauce – naughty but very, very, very nice!! So good! Huge hulks of sweet soft onion is crispy jackets and sweet, sticky sauce!! And speaking of naughty!!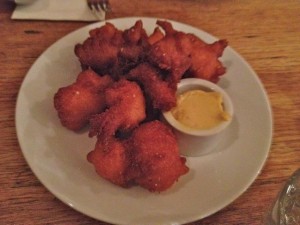 Hushpuppies with maple butter…… seriously!! "A hushpuppy (or cornbread ball) is a savory, starch-based food made from cornmeal batter that is deep fried or baked in small ball" Soooo goooddddd!!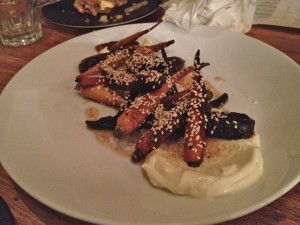 Sides are plentiful and with a twist – Roasted young broccoli, currants and pine nuts are totally yum and a welcome spot of green on the BBQ meat front and the Pan Roasted Heirloom Carrots with yoghurt and honey DIVINE!!
Completely stuffed – check! We have embraced the meat and we have won!! We should have walked home to help digest this little lot!!
Love you Rockwell & Sons – we will be back!!