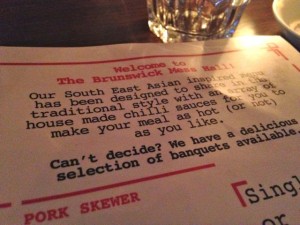 Brunswick Mess Hall where have you been all my life? It's a horrible rainy Saturday night that we headed over into unknown territory and on the tram up Sydney Road to check out a gig and grab some well earned food. I can't believe how gorgeous Brunswick Mess Hall is, step in through the narrow doors and you emerge into a huge hall with a big bar at the back and plenty of tables to start filling up with all the good stuff. Wine and Beer lists are extensive and great and the cocktails sound really good, you can get a massive fish bowl to all share is you wish!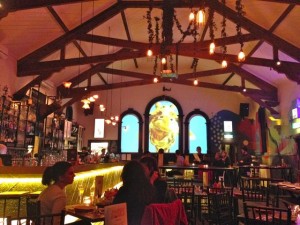 The menu is big and packed full of wonderful sounding spring rolls, curry, larb, bao and more…. Let the feasting commence – it's treat night!
So lovely protein packed healthy edamame soy beans with wasabi salt, not too strong, I could have definitely taken more of a kick but I am a wasabi freak, really enjoyed these with a lovely glass of red…. Should probably have had a beer but it's cold and dark and definitely a red wine kind of night.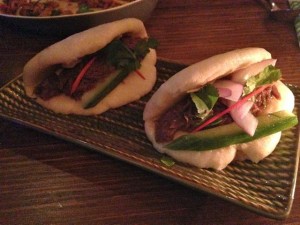 The Pork Bao with twelve hour black vinegar braised beef, hoi sin, chilli, cucumber and coriander in a house made bun is divine, I love the super soft bao buns and the pork lurking inside is …… is so good my mouth is watering right now at the memory as I type!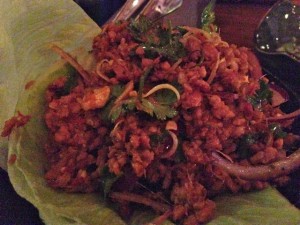 Pork larb salad – marinated pork mince, ginger, peanuts and herbs on lettuce – super spice and super nice! Really loved this dish, always a fan of a good larb and this was up there with the best of them.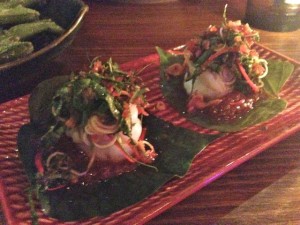 Prawn betel leaf- poached prawn, roasted coconut and peanut dressing with Asian herbs on a betel leaf – A perfect mouthful of wonderfulness! Fresh, zingy, love the coconut and peanut dressing, so good!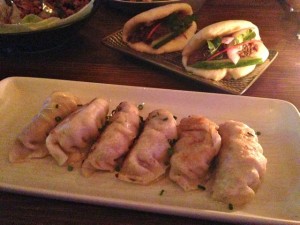 Gyoza House made pan fried dumplings of pork, prawn and shitake mushrooms – quite possibly over ordered by the time we got here we were struggling with the generous portion, not my best gyoza but still nice.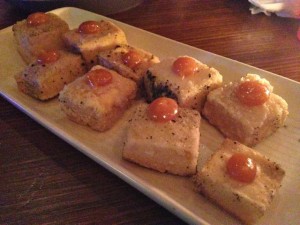 Crispy tofu Tossed in seaweed and black sesame seasoning and topped with miso – amazing dish, messed with my mind a little as it almost looked sweet with the miso sauce looking all caramel like!
The staff are super nice and always around to bring another beer or a lovely amaretto, food was steady but not too fast that you end up with ten dishes balanced on a table for two and we made a pact we would definitely be back to enjoy a bit of BMH very soon.
——————————
Food 8/10
Service 8/10
Music 6/10
Toilets 7/10
——————————