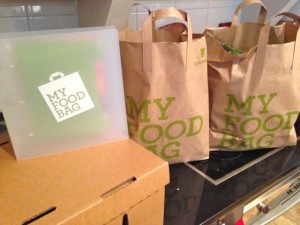 We were recently invited to trial the My Food Bag service, a genius idea for busy people who want to be able to cook good, wholesome food when they get home from a busy day. Based around the concept of making it easy to cook fresh, simple, healthy and delicious food My Food Bag caters for a variety of families, from the Gourmet Couple to a Family of Four, for four nights of the week you will know dinner is taken care of and it will be delicious!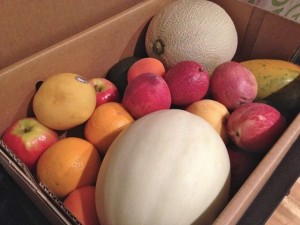 So you pop online and select which My Food Bag you want to order, you can also add a fruit box to be included in the delivery at an additional charge and I can tell you it was the most beautiful box of fantastic seasonal produce to use across breakies, lunch and snacks for the week – we had some damn good smoothies with mango, passion fruit and nectarines!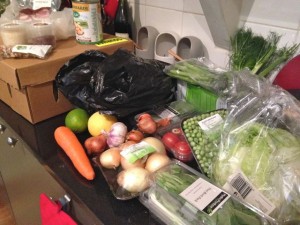 Deliveries are Sunday afternoons currently, and will have you set up for the week when you get home Monday night there will be no 'What's for dinner' conversations, instead you'll be in the kitchen with your recipe cards and all the ingredients you need to rustle up a little something quite wonderful.
The recipes and food are part of a set that you can't switch out, as the guys state "We think learning new recipes and trying new things is all part of the fun of the My Food Bag experience, so each bag is based on a well-balanced set menu created by our resident chefs and nutritionists. Our food bags are part of a set menu which changes each week, so we do not cater to specific dietary requirements and allergies. However, our recipes have been designed to allow you to easily substitute ingredients. Our recipes cards will even tell you if a meal is vegetarian, gluten or dairy free and we give suggestions on how to customise for particular dietary types."
So providing you aren't too fussy and are relatively confident in your cooking this is a great shortcut to avoid planning your meals and then hitting to the super market to try and track down all the ingredients – you can just have them delivered straight to you and even better they endeavour to source everything locally and free range to guarantee quality and sustainability along with looking out for the animals and their welfare.
So it was a super hot Sunday evening when our lovely delivery guy delivered all our boxes and bags of delicious food, four days before your delivery you get the run down on what recipes are in your next delivery so you know what to look forward too. We were really impressed when we started unpacking and the quality was indeed exceptional, the meats were mostly cryovaced so you knew they would last the week and the fish was super fresh and smelt good (you know what I mean!!). The fruit box, as mentioned, was totally worth it, it will guarantee your five a day and then some and probably gives you a selection that you might not always pick up yourself or treat yourself too. I liked that it made me think up ways to use them, rather than just snacking fruits – what could we make? Well helpfully in our recipe pack (which comes with a cute little folder on your first order so you can keep them safe as you collect them each week) was a recipe for baked nectaries with crumble topping – fabulous!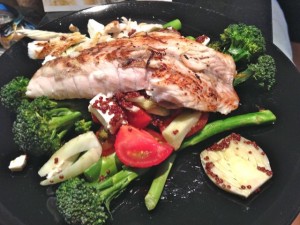 Our first nights dinner was lovely fresh barramundi with quinoa, tomato, fennel and feta salad, super easy, your little recipe cards have all the info you need and you get a cute little folder to put them in to keep. Most of the ingredients are measured out for you though some are shared across the weeks recipes so careful you don't throw is all in without checking!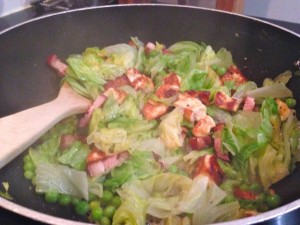 Monday night we have Miguel's petit pois and halloumi a la francais, very grand way of saying lovely wilted lettuce with salty lovely halloumi, peas and caramalised speck – YUM!
The rest of the recipes are lovely Chicken Laab Gai and a Beef Fillet with cauliflower and cannellini bean puree, walnuts and sage crisps. We certainly felt like we were eating like kings and the avoidance of getting home after a long day to work out whats for dinner makes a refreshing change.
it's a great idea for two not fussy, slightly less organised foodies and I loved having an abundance of fresh food and fruit to enjoy for the week. If you want to explore cooking a little more at home and are game for a variety of foods then I would whole heartedly recommend this – it's a genius foodie service!