A lovely invite to come along and have dinner at Ayam Chef was a great surprise, imagine a fantastic Malaysian restaurant practically on my doorstep and I never knew! I felt like a fool when we got there and realised the guys from Ayam Chef had been there for a year and we had no idea. But now we have found it we are going to be regulars, I loved it!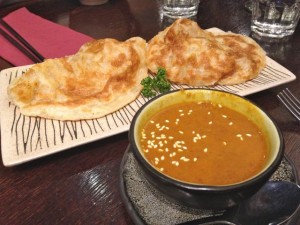 The menu is a long list of wonderful dishes across Hawkers delights such as Nasi Lemak, Nasi Goreng, Hainanese Chicken and fried Kueh Teow. There are chilli prawns, curries, pancake, nyonya chicken, sambal eggplant and so much more. The roti and peanut sauce we some of the best ever, beautiful fluffy, homemade roti with dark, rich peanut sauce.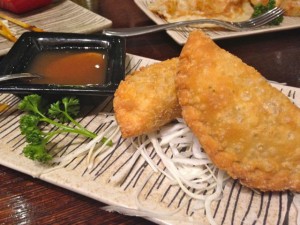 Gorgeous little curry puffs with potatoes, carrot, onion with curry spices in golden brown pastry – perfection.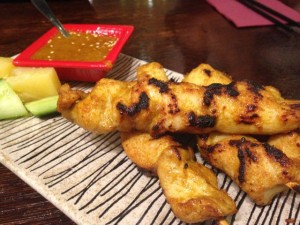 Oh Chicken Satay – Ayam Chef's Flame grilled Chicken Breast Satay with peanut sauce is so good, succulent charred chicken and sweet, rich peanut sauce – happy days.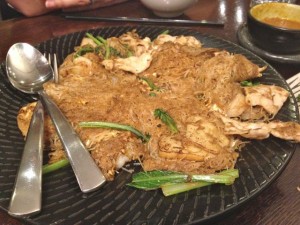 The recommended, only one in Melbourne – San Low Fried Beehoon – Fried rice vermicelli noodles with egg, choy sum, pork slices, prawn and fishcake was my absolute favourite. I love vermicelli noodles and though this was a appearingly simple dish it was so flavoursome and I didn't really want to share it!! It also came with a kick ass chilli sauce that I loved.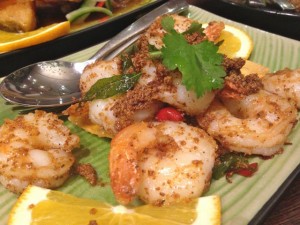 Coconut butter prawns – wok Fried Prawns tossed in buttery coconut crumble with fresh chilli & coriander, super fresh prawns, great flavours, quite sweet but very nice.
Thai Fish – Deep Fried Cod Fish Cutlet topped with cucumber, onion, chilli, fresh coriander and tangy Thai chilli sauce. Generous serve of wonderful fresh, fried cod, watch out for those bones! Loved the fresh salad on the top and the spice.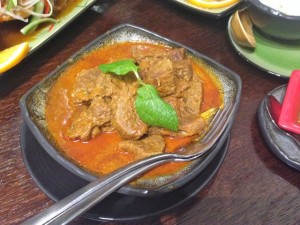 Beef Rendang, hunks of beef in a creamy, spicy rendang, perfect with at beautiful roti.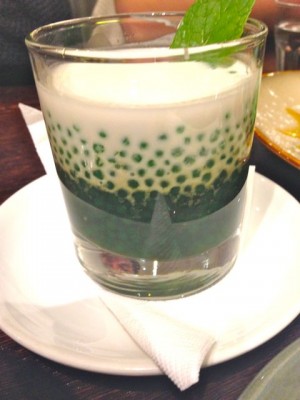 And now for dessert, I love sago and this would be one of my all time favourites, striking green little pearls in a delicate coconut milk sauce – sensational.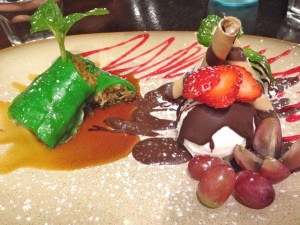 Green crepes with coconut and palm sugar – so green!! I don't have much of a sweet tooth so this was the limit for me but I loved the toasted coconut and the coconut ice cream – so pretty!!
Thanks to all the guys at Ayam Chef for introducing us to this great food, we felt very lucky on the night and were treated so well. There is a reason we had the last table on a Wednesday night, obviously everyone else knew about this little hot spot well before me 🙁
——————————
Food 9/10
Service 9/10
Music n/a
Toilets n/a
——————————