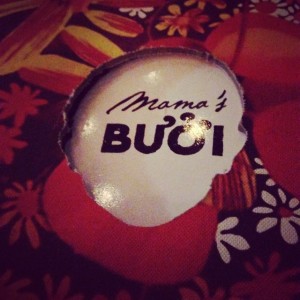 Eat, Enjoy and never leave the table hungry!
Bao Hoang – Director, Self-Confessed Mama's Boy
The love of Melbourne and their little lane ways, there has always been something nice to find in the cut through between Myer and the old GPO building, now home to H&M. Now it is home to Mama's Buoi, plenty of seating outside and good heaters means we can hold on to the belief summer hasn't really gone. Settle in and let the feasting commence! Mama's Buoi has a great wine list, plenty of good local favourites and some good international choices including a very enjoyable Nero D'Avola.
The menu is a long and desirable list of fabulous dishes, it takes a lot of negotiations to come up with the final list!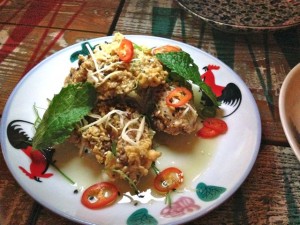 Fried chicken ribs, seasoned with five-spice and a chilli lime glaze – Fabulous!! Love a cheeky chicken wing and these are all things wonderful, will succulent chicken falling off the bone and that hit of five-spice and chilli. Lip tingling good!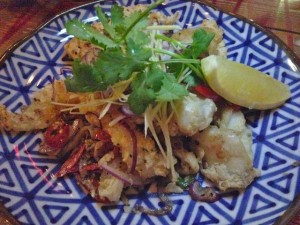 Viet style salt & pepper squid in Mama's secret spice – so very yum, perfectly cooked squid, great flavours and could have eaten a whole lot of this.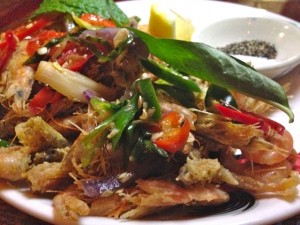 Crisp fried, shell-on school prawns served with black pepper and lime, less spiky than some we have had of late, these are crispy and lovely with a drizzle of lime – no need for a big dollop of mayo after all.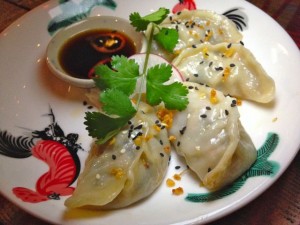 Bánh Bot Chay vegetarian steamed dumplings with tofu, sesame oil and sweet soy sauce – perfect little pillows, with pot sticker bottoms and a great filling, the boys barely noticed there was no meat.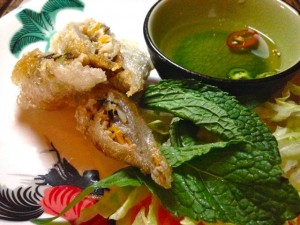 Cha Giò – Hanoi style fried spring rolls served with Nuoc Mam sauce, oh these are so good, far too small when you want to eat them ALL!! I recommend you get a few serves of these bad boys.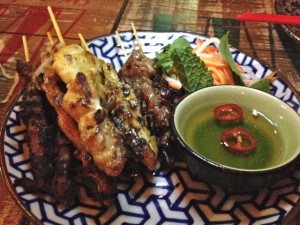 Mixed skewers of marinated chicken, pork & beef served with pickles, lettuce cups and Nuoc Mam sauce – fabulous, again just wanted to eat lots and lots of these, this might not be the best restaurant for me to visit too often if I want to keep on the healthy weight loss plan, I seem to want to eat a lot of everything here at Mama's Buoi!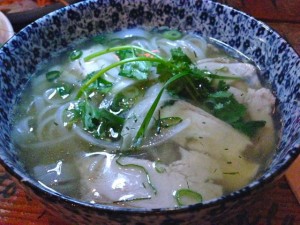 Traditional Hanoi style Chicken Pho in a six our broth, wholesome, comforting and perfect when the night has a bit of a chill in the air. Get slurping on the noodles and that delicious broth, sensational dish.
It's a great place to get a good feed, prices are reasonable, spice is good and service is great.
——————————
Foodie Ratings:

Food 8/10
Service 8/10
Music 8/10
Toilets 6/10
——————————