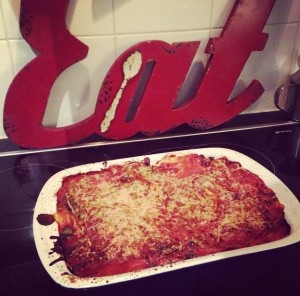 Ingredients:
250grams of lean mince beef
Packet of baby spinach leaves
Half a butternut pumpkin
1 Jar of passata
Fresh basil leaves
1 Zucchini cubed
250grams of low fat ricotta
Fresh lasagne sheets
100grams of grated Parmesan
Pinch of oregano
Method;
Pre heat oven at 180 degrees
Bake or microwave the pumpkin until soft.
Place the mince in a pan to brown. Once browned add passata and bag of spinach and leave until spinach has wilted.
When pumpkin is soft enough to mash, roughly mash together skin and seeds as well and then combine with ricotta and basil. Spread half of the mince and passata mix on the bottom of a medium casserole dish and then a layer of lasagne sheets. Then layer the ricotta and pumpkin mixture then another layer of lasagne. Finish with the rest of the passata sauce and sprinkle with Parmesan and a little oregano.
Place in a pre heated oven for 30 – 40 minutes until golden brown and bubbling.
Happy Eating 🙂