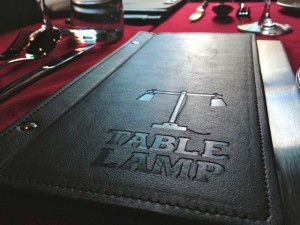 After a lovely Sunday shop in town you need a nice glass of wine and some lunch with friends, we arranged to meet at The Table Lamp Restaurant. Many a time we have walked under the balcony of Table Lamp and heard some good tunes and sounded like there was a good time to be had. Obviously Sunday afternoons might be a little different to a Friday night, we were the only ones there with the two nice ladies looking after us who looked a bit bored to be honest.
We started off with a tea as we were early, all started pretty well and we moved onto a glass of wine by the time everyone else arrived, wine list was ok, a few to choose from. The menu is quite eclectic with 'cheese baked kimchi­ sauce coated popcorn ­chicken' or 'beef tenderloin simmered slowly with and served with croissants' are a few of the unusual choices along with plenty of satay, seafood and curries to choose from.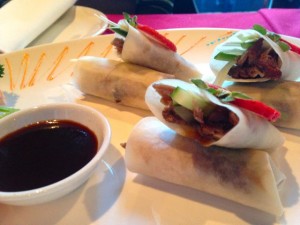 'A Night in Peking – crispy aromatic duck is braised hourly with varieties herbs and spices. Served with pancakes, cucumber, spring onion and Hoisin sauce'. Very pretty but $28 for six little peking duck pancakes is pretty pricey, they were very nice, without the decorative strawberry on the top!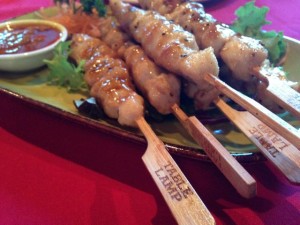 'This old­ school style Malay BBQ chicken satay skewer is served with cucumber, brown onion,and a rich peanut Satay sauce' Was really nice, great chicken and great sauce but again a bit expensive at $9 for two.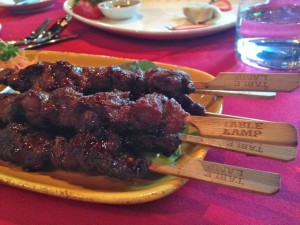 Beef skewers equally nice, juicy and tasty.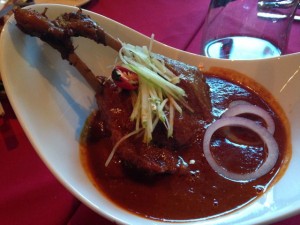 Not much for $32!! 'Thai red curry duckling with a subtle blend of lemongrass, galangal, chillies, basil, onion, spices and finished with coconut milk'. Beautifully spiced, falling off the bone.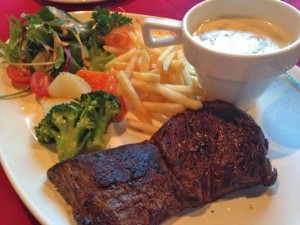 The 'sizzling steak fillet, nothing but grilled. Served with pepper mushroom gravy.' Steak and chips! $38! It was an ok piece of meat, medium well but the mushroom sauce was quite floury and bland.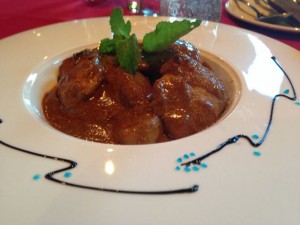 The chicken curry was nice enough, great flavour, decent portion.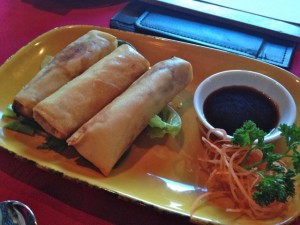 The Spring Rolls were great, yummy crispy rolls stuffed with veggies and a good spot of dipping sauce.
It was an ok lunch, we all had a good time but it was a little expensive.
Food 6/10
Service 5/10
Music 4/10 (reggae and slowed down covers of pop tunes!)
Toilets 5/10