Sweet Potato and Mushroom Wonton Soup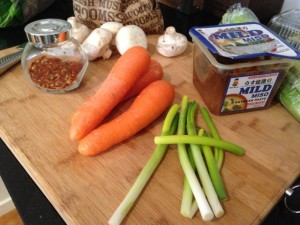 Ingredients:

Broth;
1 tbsp Miso Paste
Two spring onions chopped finely
One carrot sliced thinly
One mushroom sliced thinly
Pinch of Chilli flakes
500ml Chicken Stock
1 tsp fresh ginger grated
Wontons;
One pack of wonton wrappers
One large sweet potato&nbsp
One mushroom finely chopped
100 grams prawns
One spring onion chopped
Method:

Put all broth ingredients into a pan and simmer for 20 mins
Microwave the sweet potato, skin on for 8 minutes, or until soft. One you can easily pierce with a fork through the centre carefully place on a copping board – wear oven gloves to protect yourself. Slice in half and scrape out the flesh.
Put on a bowl with the wonton filling ingredients (not the wrappers) and mix. Leave to one side until broth is ready.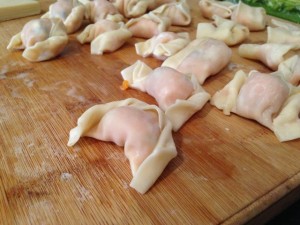 Wonton Assembly;

Ok my first time really making wontons, I know you need a little water bowl to dampen the edges for sealing and that you shouldn't over fill them. So just a little teaspoon of filling in the middle and then fold over once with your water dabbed edges to seal and then you can try and be fancy, mine sort of looked like little cornish pasties!!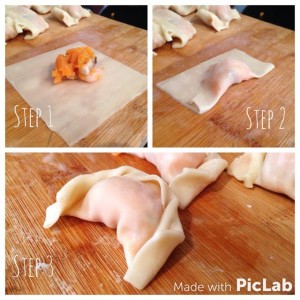 So once you are ready, there seem to be two directions you can take, I just popped all mine into the broth and then kept checking until they were done, surprisingly they took about 15 mins to cook the dough through. On reflection, you might want to boil your wontons in water for 8 mins and then finish off in the broth for 7 mins – otherwise there is a flouriness that comes off the wontons that clouds the broth. So if you want super clean broth boil first and then add to you fabulous miso broth. But even without doing that this was so incredibly tasty, hubby went back for thirds – that's how good!!