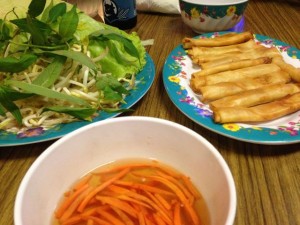 Just a tram ride away is the foodie mecca of Victoria Street, a bountiful street of Vietnamese shops and restaurants scattered with some great bars. If you want authentic Pho – you come here, if you want no frills, BYO, cheap and cheerful dinner you come here. Thy Thy is a perfect spot, just up the staircase and you get to an big open room, plenty of tables and great service.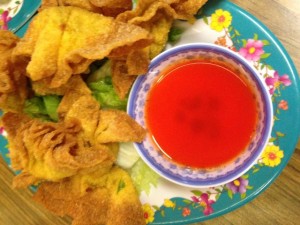 Entrees are a pile of gorgeous little spring rolls, super crispy wontons and lots more, you can get your Pho on, enjoy some rice paper rolls or chicken and sweetcorn soup.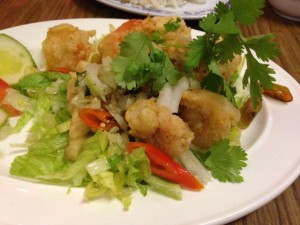 Salt and Pepper prawns were great, fresh, plump prawns with a crispy, salt and pepper coating – generous serves are the norm here!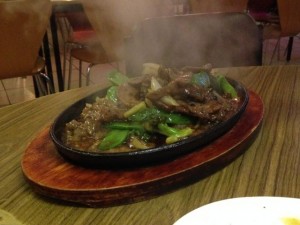 Super hot sizzling beef! Smells good, tastes even better, all the dishes are big but full of veggies which is great, just order a few and everyone tuck in.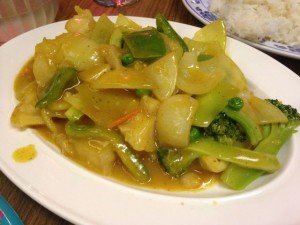 Fish curry, chicken satay pretty much look the same but taste great! The fish curry is just perfect, plenty of succulent fish pieces scattered with vegetables and a little rice to soak up that delectable sauce. Satay chicken is subtle but still very good.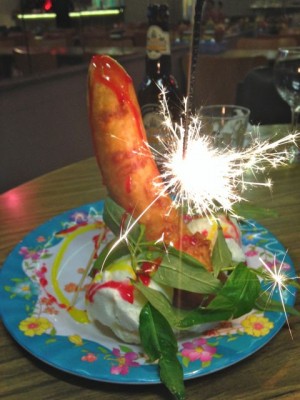 And then… dessert! You can have the regular banana fritter but if someone is having a birthday they will go all out to set up the best banana fritter of all time, lights off, whole restaurant sings and laughs at the incredible phallic birthday banana! You've gotta try it, it's bloody good! Super crispy, massive banana with red sauce and ice cream. You can't help but smile!
And you smile when you leave and the bill is crazy cheap! A good time is always had at Thy Thy!
**************************************************
Last visit 5th November 2011
Amongst the hustle and bustle of Victoria Street is a little doorway and at the top of the stairs is the wonderous world of Thy Thy! Not to be confused with Thy Thy House, this is Thy Thy No. 1!!
It simple, plenty of long tables and chairs, smiling staff and a menu that goes on forever!
There really is everything you would ever want from Pho to noodles, to rice to chicken, you are guaranteed to find something you like the sound of!
The big plate of pork spring rolls is great, there are plenty of us and we quickly cut into the lettuce and herbs before wrapping up our rolls and dipping into the big bowl of aromatic sauce.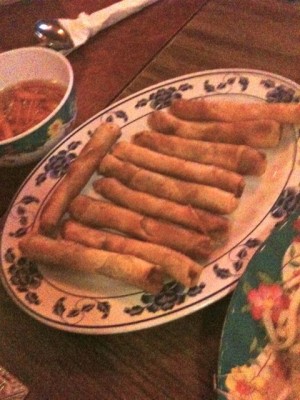 The chicken sate is a two big hulky kebabs! Loaded with plenty of meat and veg, again it's a generous serve that easily goes around the table! The staff are great, they make sure you have whatever you need and they fly around all of the tables delivering glasses, food and naughty looking desserts!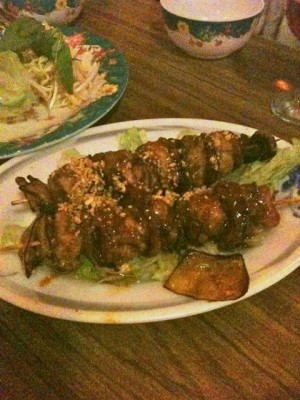 The salt and pepper squid is a big pile of fantastic squid with a crunchy coating, perfectly chewy without the rubbery! It's a favourite!
The Mongolian beef is succulent, great slices of tender beef with plenty of onion, snow peas and beans. A great sauce and with a pile of rice it is a fantastic dish, I would gladly take that one home every night!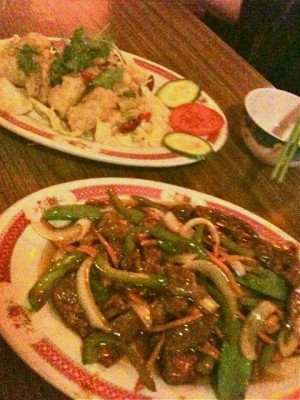 When I said 'naughty' desserts. I wasn't kidding, if it's your birthday or a special friend, the guys at Thy Thy will turn the lights off and bring out a wonderful battered banana in the style that would make your grannie blush!!!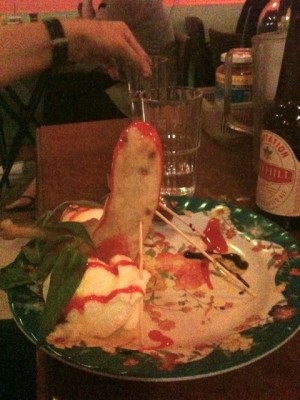 It's a great atmosphere, it certainly isn't posh but you will feel perfectly at home with great food, a BYO bottle of your choice and a bill that will surprise everyone!!
See you soon Thy Thy!