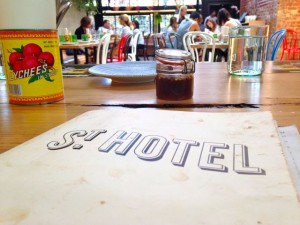 "Head Chef Sean Judd heads up a team of highly qualified chefs who bring skill, dedication and vision to present a menu of authentic Thai food with regional influences. Commenting on the menu Sean says " Thailand is a diverse country with regions and seasons and the food reflects this. Thailand's food is constantly evolving much like the rest of the world so our menu will be a reflection of these things , a mixture of traditional Thai dishes, some will-know and some lesser known but equally good, and contemporary dishes with authentic Thai flavours".
As Chef Sean Judd says on his twitter "What can I say, I play with food for a living" that sounds like a good place to be and they are definitely having some fun with the food at St. Hotel, hailing from Longrain and Chin Chin it's nice to eat Chef Sean's food and not have to queue for a table! Infact it's a perfect long weekend sunny afternoon, we've walked a few kms along the beach and worked up an appetite. The new fit out to the old Saint is stunning, they have created an airy, modern, fun space with a sadistically tempting menu and a welcome local wine list.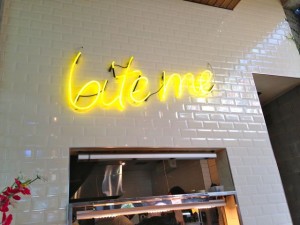 So drinkies are sorted, very pleased with my Heathcote Rosé, perfect for sunshine and spicy Thai, the wine list hails some great wines from across Victoria as well as South Australia and a few good internationals popped in to offer something different, I am a sucker for a good Gruner Veltliner.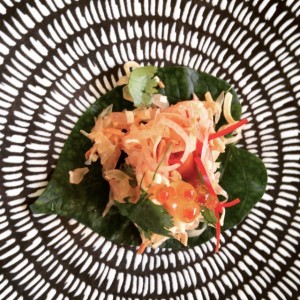 So menu wise it's all about sharing, little bites, big plates, curries, spicy salads and more. The little bites are small but pack a big flavour punch. The Miang – Betel leaf, smoked trout, pomello and roasted coconut are sensational, one big mouthful of sweet, spice, sour and smokey fish. Could eat these all afternoon.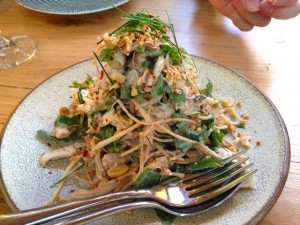 The Shredded chicken salad with banana blossom, lemongrass and peanuts is a big pile of amazingness, when asked if we like it hot, we all chorus "Yes!" and this is a good test, just that right level of heat, balanced with the acidity and banana blossom, sensational.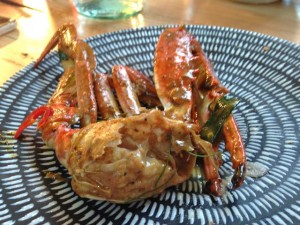 Time to get dirty! The wok tossed blue swimmer crab curry with spring onion and thai basil is a great one, create a napkin bib, grab your tools and dive in! Lots of cracking and sucking noises later once you've visited the finger bowl and wipe yourselves down you would never know! The crab is just beautiful, split into four you all get a decent bit to pull apart and enjoy, great, great sauce!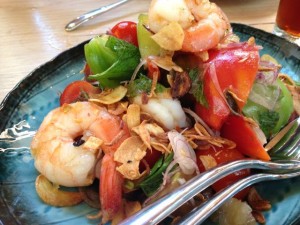 The heirloom tomato salad, with shallots and prawns is understated for such an amazing dish, firm, fresh prawns and juicy, sweet, wonderful tomatoes – The Best!!!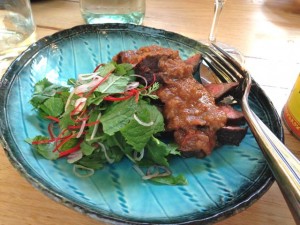 Crying Tiger – blushing Hopkins River Beek Rump cap with super lovely crying tiger sauce, with fresh lettuce, cucumber and papaya – it's just lovely!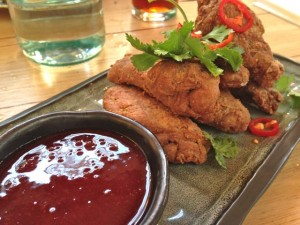 But you know when you've got the best dish? When you keep re-ordering it! We did two serves of the chilli salt chicken wings with house plum sauce, fricking amazing!!! Just a perfect example of crispy fried chicken loveliness – Happy, Happy, Happy!
It's a great bar, great restaurant and you have to have that fried chicken!!