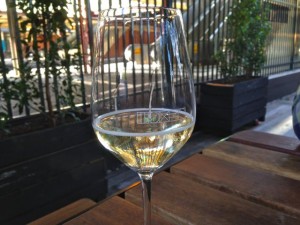 Want a great spot next to the river with a good house pour and a damn good burger? Look no further than new kid on the platform The Arbory. Originally an old train platform, some clever soul has made it into a very, long thin bar. It works really well, ample seating at either end, great toilets dropped in within clever containers and a bar at either end to ensure you have a cool drink without too long a walk. The only complaint from the train attendees was no sneaky cut through straight from their platform… some people are never satisfied!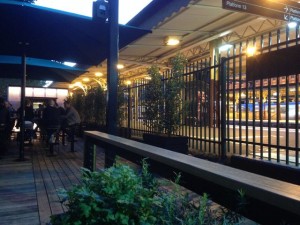 There are plenty of seats and tables to be had but word had already got out when we visited on a perfect, sunny Saturday evening but we soon secured a seat and drinks all round including the house white on tap that was damn good. The views are lovely, of the river, but even the trains station looks quite nice as the sun sets and the lights come on, plus you can play train spotter and have a great time… if that's your thing!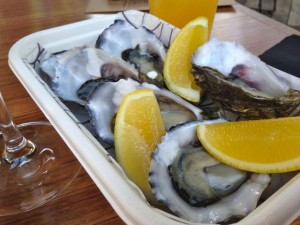 So the wine is good, the boys like the beers and there was some bottles of cider that got a 50/50 review but the winner is….. the Oyster Cart! What a genius idea, firstly good oysters and well priced – at $2 a pop for a completely, perfectly shucked Tassie oyster with a hunk of lemon we could have just got them to park up and stay all night! Probably not the favourite job on staff especially when they get idiots like me taking pics of them but our lady was lovely and even recommended the best bits on the menu – more of that later!
So we've settled in for the night, we've had a few nice drinks and now we need some food. The menu is good simple grub – hot dog, croquettes, burgers, corn dog, arancini, sausage roll and calamari. We go with the top secret recommendation of the mushroom and halloumi burger – LOVE halloumi! A great burger and with crinkle cut chips – brilliant.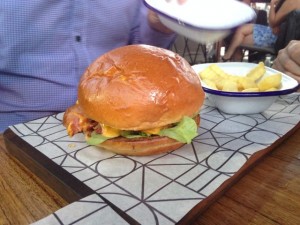 The Double Cheese burger with relish, pickles, double patty and bacon gets rave reviews from the boys. Apparently it has rocketed up the top ten to number two with only Royale Bros beating it to the number one spot.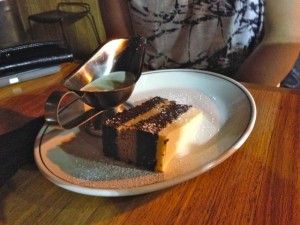 Desserts to share are always good, think popcorn and salted caramel sundae or chocolate and guinness cake with thickened cream, the cake wasn't very 'guinessy' but everyone seemed to finish them off super quick!
The Arbory is a top spot and already a favourite – we'll see you again soon!