Happiness is an afternoon lunch in the sun at Radio Mexico, it's been way too long but we have walked all the way along the beach to St Kilda and when we get to the bottom of Acland Street fate draws us down to Radio Mexico and the friendly smiles waiting for us.
Always a great spot, it's a perfect day to sit outside with a cold beer or wine and enjoy a taco or two before the long walk home.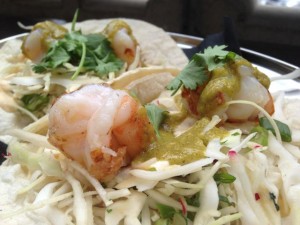 Chipotle prawn and slaw, so fresh, so plump and juicy with a creamy, spicy sauce and fresh coriander – FABULOUS!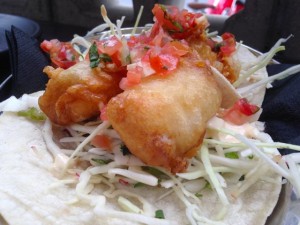 Oh I have been craving the Baja Fish Taco since we last dropped by, beer battered, super crispy fish with pico de gallo and slaw – sooooo good! Could eat a whole pile of these with a super sharp vermentino.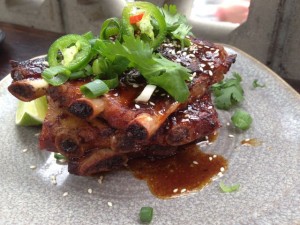 But then you try the Chipotle Tamarind Pork ribs and you suddenly have a new favourite dish! My mouth is watering at the memory of these beautiful, falling off the bone clean, flaking, spicy, sticky, wonderful pork ribs. Heaven on earth!!
We only stayed for a little snack, it was a wonderful hour with gorgeous food, great service and just a nice place to be, and a bit of a bargain really!
***********************************************************************
Last published 7th October 2013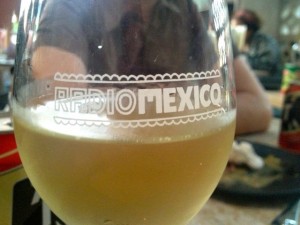 One of my favourite Mexican restaurants to open in Melbourne through the wave! Bit more easy going, outdoorsy, amazing guacamole and don't have to queue for hours to get a taco… unless you turn up on Saturday night at 8pm … then you will!!
Anyways, preparation and planning means you get there at 5.15pm on a Saturday and you get a table no problem!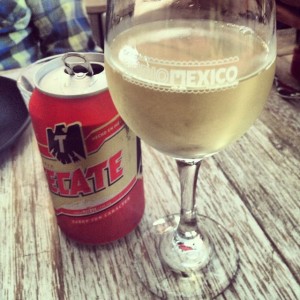 A round of Rieslings and Tecates and we are again solid professionals with an order of guacamole before we get into the business of tacos.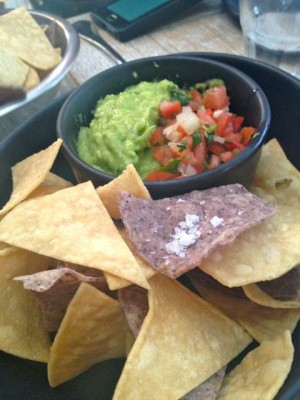 The most amazing guacamole! LOVE those salty corn chips and the creamy, zingy, lovely avocado with spikings of onion and tomato……… sooo delicious!! HOW delicious? So delicious we had to order another round mid tacos!!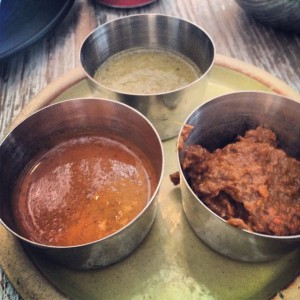 We also enjoyed the hot sauce, hot hot sauce and the hot hot hot sauce, or at least we enjoyed seeing how low my friends tolerance levels had got!! Habanero Mas Cojones = HOT!!!
So tacos are the business here and at $6.50 each they are on the more reasonable side of the Mexican Taco prices in Melbourne, though we all know they cost like a $1 to make!!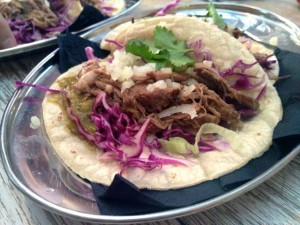 We started with Cochinita Pibil – slow cooked free range pork carnitas with frijoles, red onion, jalapeno and salsa arbol………….. so good!!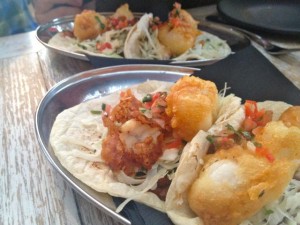 The Baja – beer battered fish with pico de gallo and slaw………. OMGGGGGGG This is SENSATIONAL!!! Might have to be one of the most amazing dishes I have put in my mouth this year!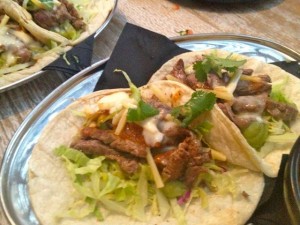 The Carne Asada – hanger steak bbq-ed with cheese, homemade crema, lettuce and salsa were divine and the boys were all meat – eater manly taco about it all!!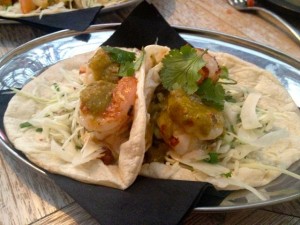 We finished up on 'Cameron' Chipotle prawn and slaw – simple, fresh and tasty! Soooo happy!
Everything is good here, the staff are lovely, the setting peaceful but fun, the cocktails legendary and those tacos – you gotta get some!!