'Colours of the world, Spice up your life, Every boy and girl, Spice up your life, Every boy and girl, Spice up your life, People of the world, Spice up your life!'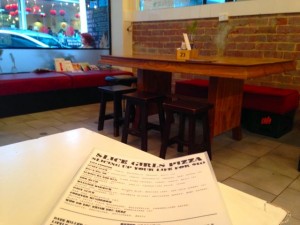 It ain't fancy but it lots of fun, the Slice Girls are having a pizza party and you are all invited! A tiny hole in the wall joint in the bustling CBD, you can drop in for a smile and damn good pizza and you won't break the bank either – just $10 a pop!
The menu is all about the Spice Girls, you can Viva Forever with super fresh Heirloom Tomatoes, mozzarella, oregano and basil – fantastic!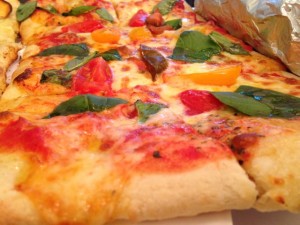 You can Zig-a-Zig Ah with Hot Sopressa Salami, flame fired peppers, cherry tomatoes and basil. Or Too Much with mozzarella, parmesan, milawa blue, braised leek and red vein sorrel – Oh Yes!!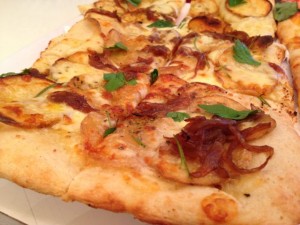 The Always on the Run with Sebago Potatoes with rosemary, garlic, caramalised onions and thyme – so so so so good. One of the best pizzas ever!
The Baby Slice comes with ham and pineapple, the Wannabe Warwick comes with shaved ham, mozzarella, kalamata olives, artichoke hearts, mushroom and oregano.
Next time it will have to be a Forever Mushroom with button, swiss, field slapped with mozzarella, caramalised onions and black truffle oil with parmesan and parsley.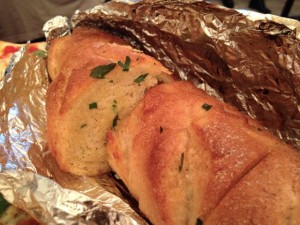 And if that isn't enough you can get your garlic on with some 'Date Killer Garlic Bread'!
It's good times and great pizza, eat in or take away but I bet you can't leave without humming a Spice Girls song for the rest of the night!!