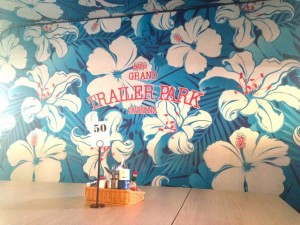 Fun times at the Grand Trailer Park Taverna, we were lucky enough to come by for the opening party and try a some slider versions as well as the amazing grown up milkshakes with Makers Mark Bourbon, salted caramel and maple bacon or the Kinder Surprise with Frangelico and Baileys!!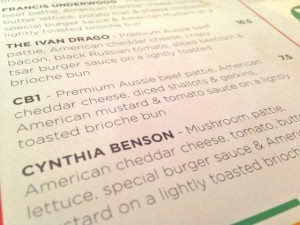 This time we are back for a big burger fix and the boys are fired up for big boy burgers and fries. All the burgers have a sense of humour here, The Chunk with double patties, cheese, onion, jalapenos and gherkins with sauce. The McDowell – Double patties, double cheese, lettuce and McDowell sauce. The Ivan Drago – beef pattie, cheese, bacon, black Russian tomatoes, beetroot and tsar burger sauce…… yes the burgers all have their own story to tell!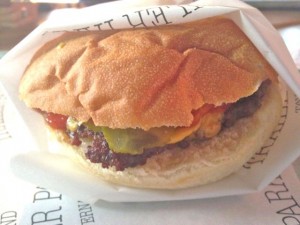 The girly burger on our table – CB1 – Aussie beef pattie with American cheddar, dieced shallots, gherkins, mustard and tomato sauce on a toasted brioche. He was a lovely little burger though I agree with some of the comments on Urbanspoon that the brioche buns don't feel super fresh and are a little dried up.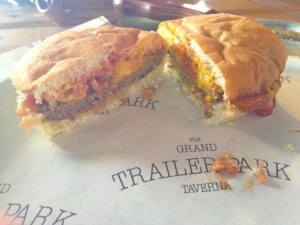 But for $7.50 he is an absolute bargain and the perfect sauce to burger ratio.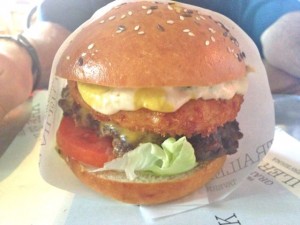 Oh yes! The Francis Underwood, much like the House of Cards character this burger is dangerous to be around! Beef pattie with cheese, tomato, lettuce and special burger sauce to go with your American mustard but the kicker is the glorious, golden, crispy fried potato mac and cheese croquette! Yes, we love Francis very much but he probably shouldn't be allowed around too often!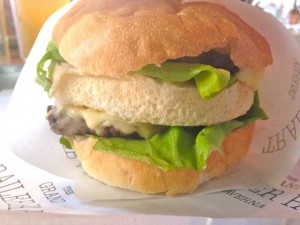 Burger boy went for the McDowell, Andie? Malcolm? or Roddy? either way there was much anticipation for the Double beef pattie burger with double,double cheese, lettuce and McDowell Sauce. Sadly there was a touch of disappointment with the roll seeming to have its bottom in the middle and two lids so the construction went all wrong and there was a two bite maximum before the buns top and bottoms disintegrated under the pressure. We all know the best foundation for the best burger is a bun that holds it's own under the strain of burger and sauce.
Chippies were great, way too many for us all but loved the skins are still on and they are hot and salty and lovely. Text book chippies!
It's a fun spot, relaxed and easy eating with plenty of naughty going on, we didn't even get near the waffle stack!!