Nitrogen Gelato Baby! When you get an invitation to come down and meet the team at Dex2Rose and have a VIP tasting you don't hesitate! Yes, Yes, Yes!! With an ever changing choice of stunning flavour combos to enjoy there is always another great reason to pop round to see Dex2Rose.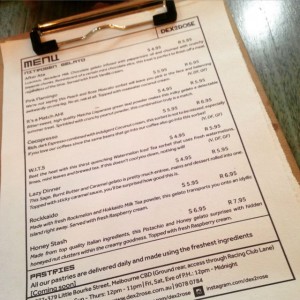 Now don't get excited as these flavours change all the time so you can't get attached! But you can get an idea for the clever palate owner Jessie and the guys have to come up with these wacky and wonderful tastes.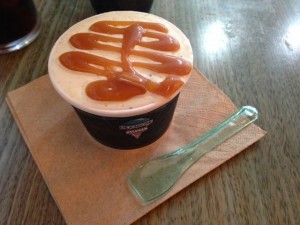 Ladies and Gents – Lazy Dinner! Sage, Burnt Butter and Caramel Gelato – your entree, main and dessert all rolled into one!! The Nitrogen Gelato is super creamy and light and sooo tasty, that caramel sauce is to die for.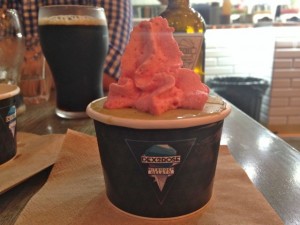 The Honey Stash is made with the best sourced pistachios the guys can find and then added with honey gelato and honey clusters and topped with fresh raspberry cream. There is a real pride from the guys here that everything they do is made with passion and love for their product. The ingredients are sourced as local as possible and as fresh and finest quality as possible.
The guys are also rocking some damn good cold pressed coffee, after being on decaf for 6 months this little pocket rocket was a welcome re-introduction, though I was awake for a long time afterwards! Lost my tolerance!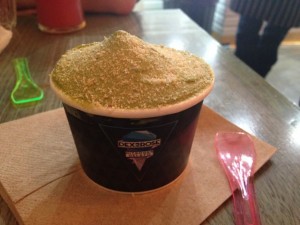 It's a Match-Ah! Was crazy good, bitter sweet, high quality Matcha, the new cool green tea on the block, powdered to make into a really creamy gelato and them scattered with crunchy peanut powder – this is crazy good!!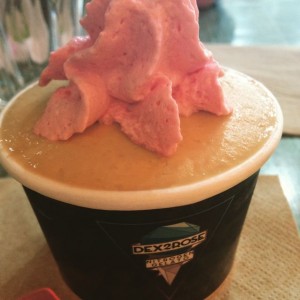 The Rokkaido was not one I would normally pick off the list but I think this was one of my favourites, fresh rockmelon and Hokkaido Milk Tea powder and that fresh raspberry cream again, it is so light and so refreshing – AMAZING!!!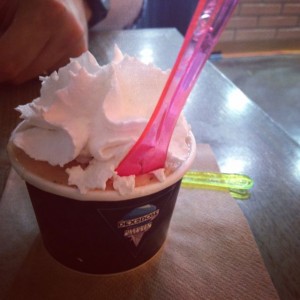 And the finale, the WITS a stunning little pot of watermelon iced tea made with fresh melon, lime, mint and brewed tea, so fresh and light – LOVE LOVE LOVE.
It's a great spot, everyone loves what they are doing and there is always plenty of flavours churning in the pots just waiting for you to pick them to be the next Nitrogen Gelato to be served.
Check out the guys on facebook for the latest flavour combos at anytime.