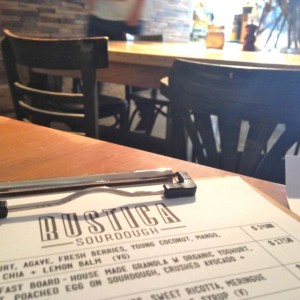 A little gem on Brunswick Street, the Rustica Sourdough bakery is just fabulous, producing amazing sourdough breads for cafes and restaurants across Melbourne, the cafe is heaven. Breakie or brunch and a fine cup of coffee, what more could you want?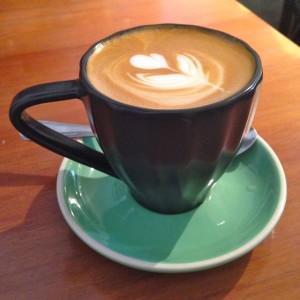 Browsing the menu you can enjoy the Rustica breakfast board with house made granola, organic yoghurt, seasonal fruit, poached egg on sourdough, crushed avocado and juice. You can go sweet with french toast with apples, ricotta, fresh berries, butterscotch syrup, pistachio mascarpone and praline WOW!! There is a Rustica croque monsieur or the house cured salmon with baby beets or the Rustica lunch board …. brace yourself.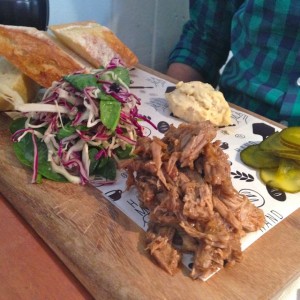 Pulled pork, house made pickles, cabbage and mint coleslaw, seeded mustard aioli and fresh baguette – Sensational. Pulled pork has been done to death recently but this was some of the best I have had in ages. Plenty of flavour, real depth, not too sweet – just right! Hubby was thoroughly happy and it took him a while to break the back of this one!!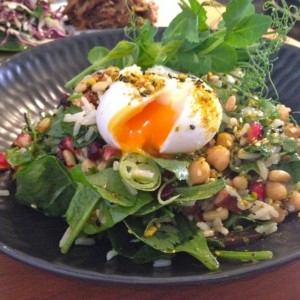 I went for the super healthy Moroccan breakfast salad with chickpeas, pomegranate, spinach, coriander, pine nuts, dukkah, rice and a beautiful poached egg. It was a huge bowl of gorgeous, fresh, touch of spice and one of those dishes you feel better for eating.
The staff are super lovely, the environment is welcoming and the tunes playing were brilliant, the resident music blogger was thoroughly impressed that finally somewhere realises how important the music is and how it can make the experience so much better.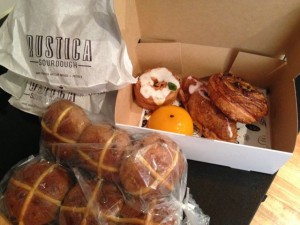 Even better than enjoying an amazing breakfast, you can take Rustica Sourdough home with you, our gorgeous bag of goodies included the best hot cross buns, remember to stock up for Easter. The olive loaf with big, fat green olives was the best I have ever had. The pumpkin loaf covered with seeds was incredible but it was the lemon curd cronut that had me hooked!! Oh and the passion fruit dome, oh and the chocolate croissant….. oh the gorgeous, yummy pastries…. totally hooked!!
It's a top spot and whether you do a drive by got a bag of goodies to take home or stop and enjoy a coffee and breakfast you will always leave happy!