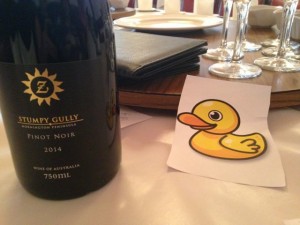 19 people, 8 whole roasted ducks, 15 bottles of Pinot Noir and a few bottles of beer – makes for a bloody good night! Duck Fest 4 was another huge success with much duck and merriment to be had.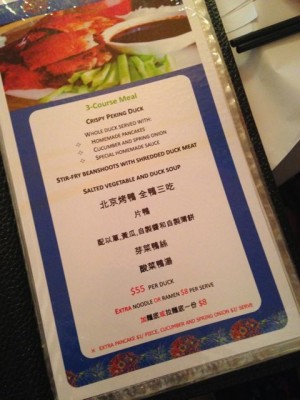 We know the drill now, one duck between each couple, BYO whatever you like but Pinot Noir goes exceptionally well. Get settled in, get the wine open and then let the feasting begin as the ducks start to fly out of the kitchen… bad choice of words, they are cooked!! Super crispy skin, succulent roasted duck meat…..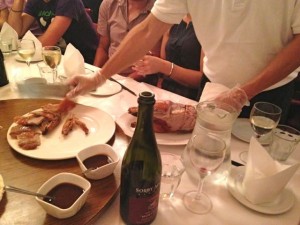 The first one is expertly carved at the table, the knife easily turns whole duck into equal portioned meat ready for those delicate pancakes, spring onion and hoisin sauce….. soooooo good!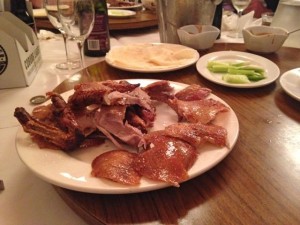 And then they just keep coming, 8 rounds of hunks of crispy, lovely duck. As professional duckers it is important to track your ducks and make sure you get them all so this year there was a complex counting system!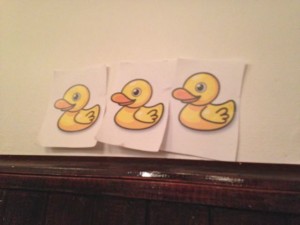 3 ducks and counting!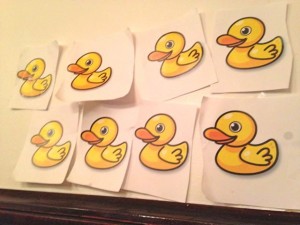 8 ducks accounted for and the pancake fun is over but there is still stir fry and soup to enjoy whilst you finish off the pinot, we always go the later sitting at 8pm so we can stay and enjoy, sometimes for a little too long but the guys at Old Kingdom are always lovely and never chuck us out even when we over stay our welcome.
Eventually we all pile back out to Smith Street and toddle off to a local bar or for some gelato and it's all over for another year.
********************************************************
Last published 18th Feb 2012
The best kept secret in Collingwood is out! It's Duck Fest 2012 and we are taking up a big table and getting serious about Duck!!
I love peking duck pancakes and I thought I had gone to heaven the first time we came here! Book your table and book your duck, be greedy and get one between two – you won't regret it!!
The duck costs you $50 and it's BYO wine and beer so for 14 of us gathered around the table the bill came to less that $400!!
The deal is $50 for your duck threeway! Peking Duck pancakes, duck stir fry and duck soup!
Simon used to be the resident King of ducks, he has since opened up the Box Hill restaurant and we missed him last night, the jokes were always the same but we still laughed! But our first duck is expertly chopped up at the table and the spring onion, cucumber, wafer thin pancakes and hoisin bowls are loaded up on the lazy susan and the official Duck Fest 2012 is open!!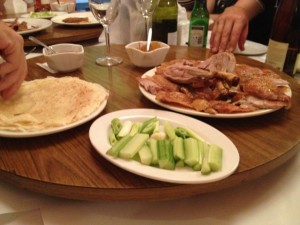 It is so good and soooo naughty!! The super crispy duck skin is decadently good! The duck meat succulent and wrapped up in it's little sweet pancake it is wonderful! There are calls to pass the 'Barbra Streisand' – a duck sauce joke from the musos!
There is a never ending succession of plates of duck meat arriving and a steady stream of plates circulating and pancake assembly, as soon as one ends the next one is starting! They were fabulous!!
The stir fry is fantastic, really tasty and the soup divine! It is a fantastic Duck Fest 2012!
We are all stuffed but there is a soup eating challenge going on over the other side of the table! This young chap is finding room for another litre of soup!!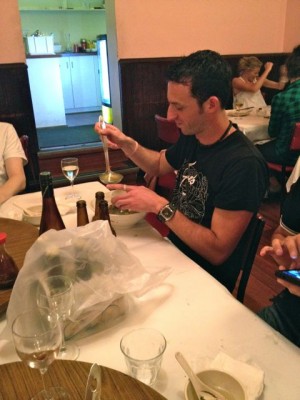 All in all this a great place to spend a night and indulge in some duck! It's not fancy but the duck is good, the company great and the BYO booze goes down a treat!
Happy Duck Fest 2012 – same time next year?