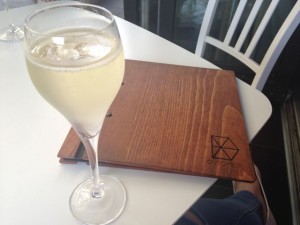 We were very generously invited to come along and get the Dutchess experience in full effect and what a night! Let me take you on a gastronomically orgasmic evening!
Firstly, knowing where to go, The Dutchess is part of The Duke complex on Flinders and Russell, The Duke is a great pub, always got the sport on, looks like they serve a mean burger and is a very busy spot on game nights at the G. Above The Duke is the Duke Wine Room offering a little salvation away from the footy on the big screens and a good glass of vino, and then above that, accessible via it's own elevator is The Dutchess.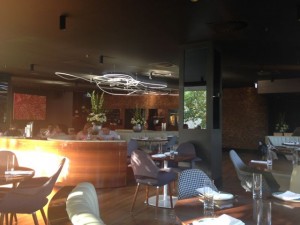 She is beautiful, all glitzy and glamourous from the moment you walk in, the bar sparkles along the whole wall of the entrance and then you jump up a couple of stairs to an airy, bright, spacious dining area, huge cream booths, dog tooth check feature chairs, completely open balcony across one side…. It's a stunning fit out and as the sun sets and the lights dim the room is filled with soft lighting and candles.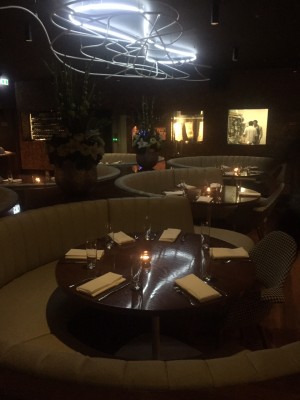 My other favourite part is the DJ, set up between the bar and dining there were plenty of great tunes to enjoy during dinner, not too loud that your mum will complain but enough that you get a really great vibe across the space.
The wine list is a great mix of wines, beers and cocktails to suit all tastes and the menu….. OMG this menu is bloody good! We have a favourite restaurant in Vegas called STK, it's a DJ lead restaurant with bangin' tunes, pumping vibe, specialising in a damn good steak and awesome mac n cheese. The Dutches was certainly doing a good job of getting close, just need to run Magnum Mondays and we are there!! As hubby looked through the menu he rightfully exclaimed "No one else is doing this!". A menu loaded with fried Cajun chicken, king crab mac n cheese, steaks come in small, medium and large including a tomahawk steak!! Desserts are check tops, choc brownie and smashed lemon tart YUM!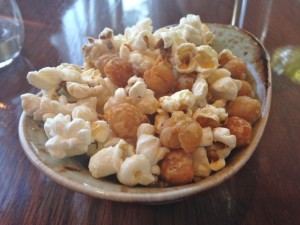 We are lucky enough to enjoy a Chef's selection menu and we are greeted with a little bowl of popcorn with these fantastic chickpeas, one of those elements that gets everyone talking, "can't be fried , not greasy", "could be an air fryer", "I can't guess the spice, its great", "Air fryer?!". The chickpea aficionados are stumped! Such a cute little bar snack and a big clue to how great the rest of the night is going to be.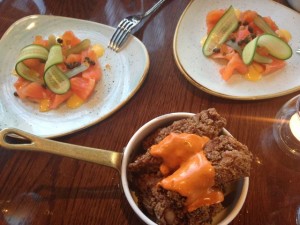 We are quickly delivered little pans of fried chicken bits with Cajun seasoning, fried chicken fantastic! Ribs and wings in a super crunchy coating – a recipe as guarded and The Colonels own! And I love the slathering of spicy mayo on top – there was just a pile of bones left in minutes!! In complete opposite the delicate slives of cured salmon with dill, cucumber and hollandaise was creamy, fresh and lovely.
Next up – the main event – could you want anything else in the world to share than perfectly pink medium rare chateaubriand and delicious roasted chicken…. WOW.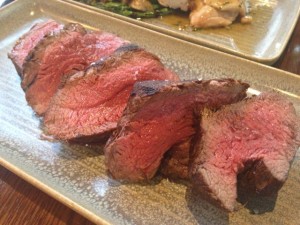 Chateaubriand, a 600g the beef tenderloin from Hopkins River, Dunkeld, roasted and sliced, a perfect medium rare and a little red wine jus – it was a sensational dish, usually a $90 serve for two people this is well worth it as one of the best pieces of meat you'll find.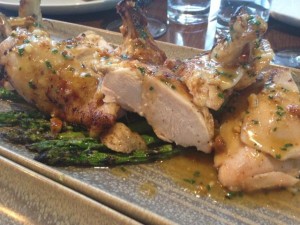 Chicken all juicy with a herb flecked skin all glistening with naughty goodness, served with charred asparagus and hazelnuts, along with our sides of hand cut fries, baked chipotle green beans and honey roasted pumpkin and feta – we are in a world of happiness and there are just yummy noises echoing around the table.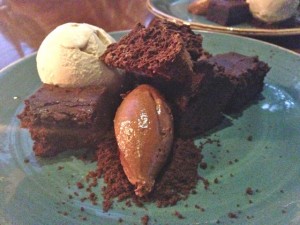 The finale to this amazing dinner was the Chocolate brownie with spiced cinnamon ice cream, sounds so innocent but it was decadently divine! The dessert fiends are the table when to town on the choccie soil and choccie ganache and choccie brownie and that ice cream!! Apparently it's rockin'!!
The staff were really lovely, I doubt there is any difference in how they look after a table of invited bloggers or the couple having a romantic dinner or the rowdy work mates catching up. It was impeccable and there was some very impressive tray balancing going on that worried me for my shirt and my beautiful black and white dog tooth checked chair… we were both completely safe and I wish said char could come home with me!
It is a great spot, I can't recommend it enough and I dare you to try and not have a great time!! We will be back very soon … oh that beef!!