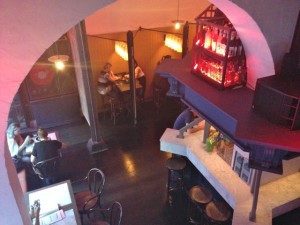 Those who know me will know I am a big fan of Cookie so when we heard there was a new Cookie in town we couldn't wait to go along. It's a great building, no idea what was here before but they have done a lovely job to make the spaces work well and downstairs has plenty of light and tables to grab or you can head upstairs to the booths and bangin tunes or you can go in between on the little mezzanine level which turned out to be a little VIP area for us as we pulled the two tables together and made ourselves at home! However it is lovely and intimate with candles and not so much light so the photos are going to be tricky!
Just like my wonderful Cookie, the staff are brilliant, so friendly, honestly want to help, make sure you get a table, menus, advise on drinks and food and when you try to kill your friend with chilli they will provide cucumbers and coconut cream until she stops crying!!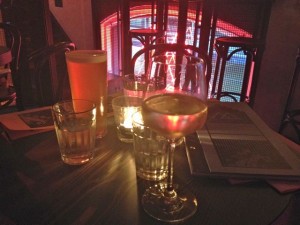 The wine list isn't quite the bible that they have at Cookie but it has a great range of origins and varietals and a lovely Gruner by the glass – perfect for me. The boys hit up the extensive beer list and our friendly waiter Michael helps the non-drinker choose something less boring that Lime and Soda!
The menu is pleasantly schizophrenic with ribs, wings, wok and salads, everything with a chilli, Asian flair and all served beautifully and so delicious. There's fish sandwich, curried rice and mozzarella balls, tea smoked ocean trout, beef cheeks, pork belly, lamb ribs, red duck curry and a salad with sweet potatoes, broccoli, watercress, tofu cream and peanut brittle – craziness! You will never get bored on this menu.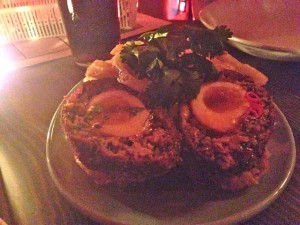 The Scotch Egg was an absolute winner. Not completely authentic to the original but I am far more of a fan of this version. Chicken with kaffir lime, chilli, tamarind sauce and stacked with onion rings YUMMO!! Super crispy coating, so succulent, little soft cooked egg in the middle and its happy days all the way!!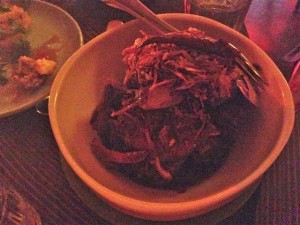 The sticky beef ribs were sensational, a large portion at $35 was enough for all four of us to get a couple of pieces and the meat was flaking, fall off the bone succulent with super sauce and a good hit of chilli – my mouth is watering as I type!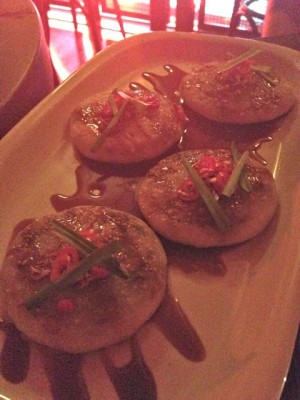 The girls got to pick the next round and we went the dumplings and a healthy salad. The garlic chive and water spinach dumplings with black vinegar and chilli soy sauce were reminiscent of my addiction at Cookie – the Taro dumplings, the same dough that burnishes beautifully and the filling dark and delish – and that sauce…. So good with those little scud missiles of chilli.
The Spiced carrot, radish, orange, avocado and witlof salad was the chilli that killed my friend, we thought we were being so good getting healthy carrots and then after one bite said friend when purple and cried until the cooling cucumber and coconut cream. Who would have thought the innocent salad would pack such a punch!! It was delicious, just an unfortunate level of chilli for those less tolerant. At least the staff were fabulous at helping and were really nice about it!
I could have stayed and drank and ate all night but it's a school night so we headed off after a lovely evening and I am sure we will be back very soon, even if it's just to take some better pictures!