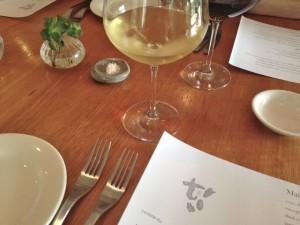 We are very lucky in Melbourne to be able to jump in a car and drive an hour up the road to experience amazing wineries and equally great food. Many of the wineries offer lunch though a lot of them have gone quite up market, you can't just grab a pizza or a sandwich at many of them now. Terre has a lovely restaurant and you can enjoy two courses for $52 or three for $71 and there are lots of mouth watering dishes to pick from.
The setting is, of course, beautiful with rolling rows of vines and countryside as far as you can see. The staff are really lovely, happy for you to try lots of the different wines Dromana Estate has on offer and then you can relax in the restaurant and let them feed you many lovely dishes from the freshest local produce.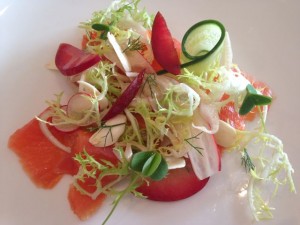 Healthy choices easy here with a pretty smoked trout with blood plum, young almonds, cucumber and pickled fennel and it tastes as good as it looks, I loved this. The freshest trout and a lightly dressed salad with the most intriguing young almonds, never had those before and I loved them!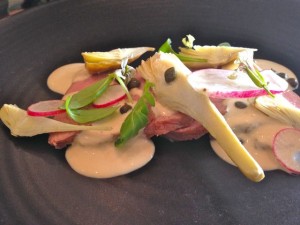 The Vitello tonnato with little slices of veal in tuna mayonnaise, capers and baby artichoke went down well and the little taste I had was wonderful.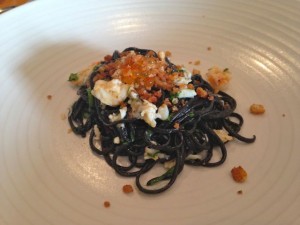 Squid ink linguine with spanner crab, chilli, parsley, salmon roe and pangrattato was a little portion with big flavour and there wasn't a crumb left on the plate.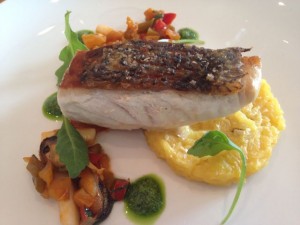 For main I picked the winner! Crispy skinned hapuka with saffron and chorizo rice cake, squid and mussel peperonata. Just a lovely dish, the fish cooked through to perfection and the hapuka was big and meaty and succulent. The rice cake was the most flavourful little side and then most lovely seafood in a rich sauce. 10 out of 10!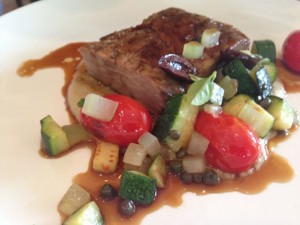 The other side of the table went with the lamb shoulder, slow cooked and then served in big hunks formed into a little square with eggplant puree and a side of zucchini, olives, capers and cherry tomatoes was a hearty and wholesome dish.
No dessert or cheese for us but we can certainly pick up some of Dromana Estates lovely Pinot Noir and Shiraz for later on.
Can't fault it, it was a lovely lunch.