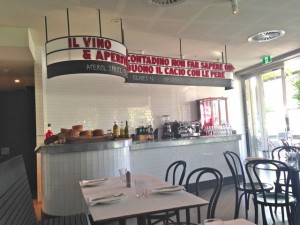 When you find yourself by the river in Melbourne CBD or heading to a show at Hamer Hall you can do a lot worse that visit the team at Fatto. Specialising in pre-show dining they will get you in, bring you food and drinks and get you out to your next location in record time. For those that don't have to rush off you might be better taking a later booking to avoid the rush! There is a lovely wrap around outdoor area with tables located in the shadows of the greenery so you can enjoy the river views without sweltering in the heat. There are plenty of smiling staff who gracefully fly around delivering pasta, Prosecco and antipasto to the many diners.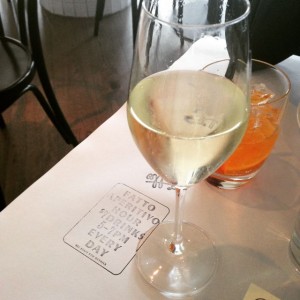 We did go pre-show but weren't in a rush for the support, so we were surrounded by other patrons frantically eating and drinking at lightening speed to head out whilst we sat back and enjoyed the views. Firstly, it's happy hour from 5-7pm at Fatto so you can enjoy a Prosecco or Aperol Spritzer whilst you debate through the menu of whether to load up on delicious breads, salumi, mozzarella, arancini and tuna crudo or pace yourself for a bowl of crab spaghettini or lamb chops.
After our health kick we fought the urge to go back to our old ways and order everything and instead ordered the delicate anchovy and pea focaccia and the generous portioned smoked cod arancini with salsa rosso.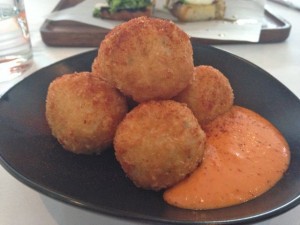 My arancini were really nice but I was clever enough to share so I could get one of those anchovy breads. Lovely, soft little balls with a delicate coating and not too fishy filling.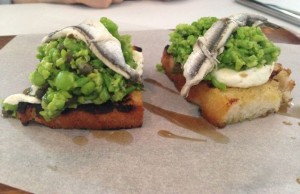 These cute little nibbles with super fresh pea smash, capers and a little tiny anchovy on each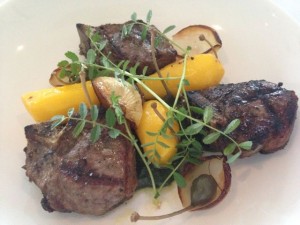 For the main event we went beef and lamb – we have obviously been craving some fabulously grilled meats with all the trimmings. My lamb chops we charred to perfection, maybe a little over for me as I like my lamb pretty rare, but it was delish. The saffron potatoes weren't my thing but it was a nice dish and the gorgeous side salad with perfectly dressed rocket, parmesan and pomegranate seeds rocked my world.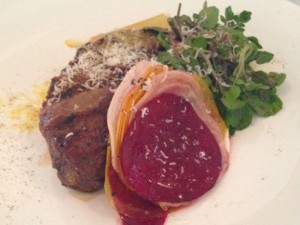 The big, chunk of manly beef sirloin with parmesan crust, horseradish and watercress was very welcome, again a little over for the medium rare requested but a nice piece of meat and hubby loved the parmesan saltiness. The wafer sliced beetroots were pickled and peppered and looked beautiful on the dish.
No chance of cheese or dessert today but as we left into the sun there was barely a table free, everyone enjoying their Prosecco in the sun – just as life should be!