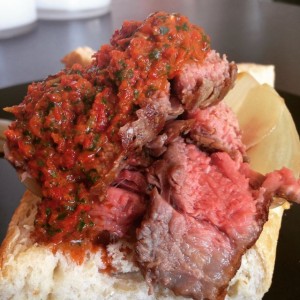 The Mega Steak Sandwich
On a bit of a health kick so we are creating pub favourites at home with a side of less fat and a dollop of no beer! I LOVE a steak sandwich but they can often be so very wrong. That chewy, cheap cut that they think they might get away with YUCK, we want melt in the mouth, succulent, medium rare, char grilled meat. A good, solid roll to hold everything in and for our version a spicy chimichurri sauce.
Ingredients;

Serves 2
1 x 300 gram eye fillet
Chimichurri;
1 red capsicum
2 red chillis
Bunch of coriander
Tsp of paprika
Tablespoon of red wine vinegar
Tablespoon of olive oil
Good pinch of salt
Fresh baguette
Garlic clove
Butter
1 onion sliced
Salt and pepper
Recipe;
Warm oven at 180 degrees, place a ceramic dish in and place a griddle pan on the heat. Place onion and a teaspoon of butter in a pan on a low heat.
Cook onions until starting to brown and then add 1/2 cup of water and turn up heat.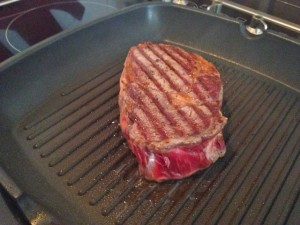 Rub salt and pepper into steak and then place in griddle pan. Cook on both sides until caramalised. Place into oven in ceramic dish for 20 mins.
When water has evaporated in the onions and they have started to brown take off the heat.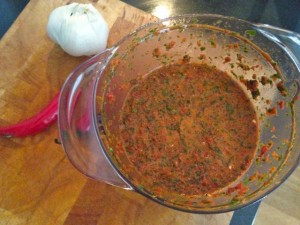 To make the chimichurri place as the ingredients into a small blender and whiz up to a sauce.
Take steak out after 20 mins for medium rare and cover with foil.
Cut baguette in half and into sandwich size pieces and place in a tray to toast.
When toasted rub with half the garlic clove and spread with butter. Place onions, sliced steak and chimichurri into baguette and enjoy!