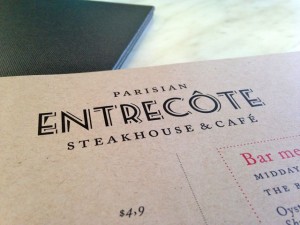 Entrecôte in French, the word denotes a premium cut of beef used for steaks. A perfect name for a French style Steak and Frites café. But it's not just steak and frites on offer from midday to midnight, Entrecôte are serving up a little petit déjeuner too with pastries, baguettes, muesli and a brioche breakfast roll with golden fried eggs, Emmenthal and smoked bacon. Or there is a croque monsieur, Roquefort and leek quiche and eggs benedict with eggs from 'Shelly and Alan Greens happy cluckers'. Personally with all that good stuff you can't go wrong with a little continental tasting plate with drinks, carbs and egg, brioche and bacon crumbs.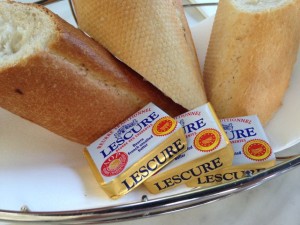 The bar menu runs on the outside patio and inside bar from midday to midnight with wonders such as oysters, terrine, quiche, gravlax, cheeseburger and 'Mittraillette' Fresh baguette filled with chargrilled entrecôte and herb butter sauce……………. Hmmmmmm!! Don't miss desserts with apple tart tartin, mille- feuille, lemon tart and profiteroles.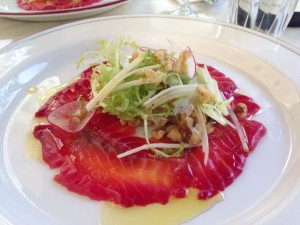 So decisions, decisions – it's times like these I love my hubby just a little bit more, I am on a massive health kick so eating out is a real test to A. Find something healthy that won't have sneaky extra calories drizzled all over and B. Using all my will power to order the healthy option identified. SO I WANT the massive cheeseburger with oozing cheese slathering out the edges. I AM HAVING the Lillet, Beetroot and Dill cured Gravlax – tres healthy!
It is a beautiful dish, delicate, fresh, small mouthfuls enjoyed slowly with a cheeky glass of wine and a big bite of hubbies burger and a few stolen fries – a perfectly balanced lunch!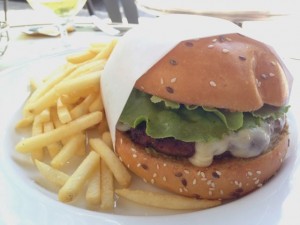 The cheeseburger was beautiful, big firm roll to hold in all the greatness, big meaty burger but if perfect proportions, little salad, good dose of melting cheese. Hubby was missing some sauce, I am sure he could have asked if it was a deal breaker but there were happy eating noises all round.
The staff were really lovely, the perfect mix of helpful, polite, attentive and always making sure there was water on the table – I love that! The setting is idyllic, cutesy French tunes are playing softly as the sun warms the patio and another glass of cold white wine is on order with a cheese plate … it's so nice we want to stay all afternoon.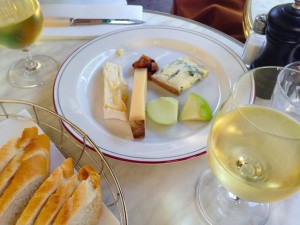 A lovely cheese plate, just the right ooze going on the creamy brie, I have a little with the apple to keep in the health regime, my friends will help clear the rest!
Can't recommend enough, almost don't want to though, as there will be that time when we can't get in anymore and that beautiful sunny afternoon will be replaced with every seat full and no steak frites for me. I guess I can always come down just before midnight when all the pram brigade are safely tucked away in bed!!