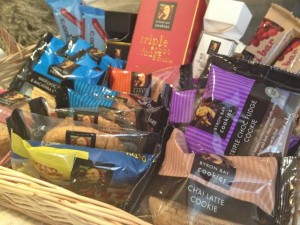 When the Byron Bay Cookie company offered to send us lots of lovely cookies we said 'YES!' and then when the basket over loaded with cookie goodness we knew we have to share! Cookies all round at tea time and what better way to share than a Chocolate and Chai Cookie base Cheesecake with vanilla, lemon and berries – behold the recipe below;
Ingredients;
150grams of butter melted
8 Chocolate Chip Byron Bay Cookies
2 Chai Latte Byron Bay Cookies
500 grams of low fat cream cheese
100 grams of light sour cream
1 Vanilla pod, split and take the seeds out carefully with the back of a knife
Zest of one lemon
Mixed berries to serve
Method;
– Place all the biscuits in your food processor and whizz to a semi fine crumb. If you don't have a processor crush biscuits in a zip lock bag with a rolling pin.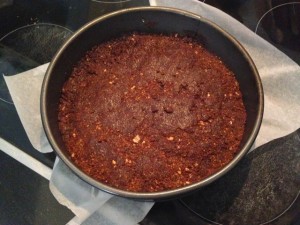 – Mix the crumbs with the butter and spread across the bottom of a lined spring loaded cake tin, so you have an even crumb base.
– If you have time refrigerate base for 1 hour.
– Take the cream cheese, sour cream, lemon and vanilla seeds and mix together, either by hand or a quick whizz in the processor again.
– Spread the cream cheese mix across the cookie base and refrigerate for at least 2 hours
When ready pop out of your time carefully, if you use a spring loaded tin you can remove the sides and cut the cheesecake on the tin base.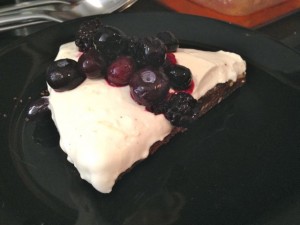 Serve generous slices with a pile of mixed berries and glass of Prosecco
Enjoy!