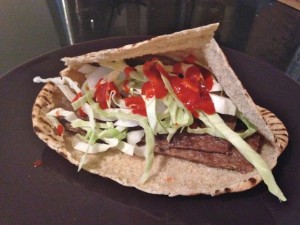 Homemade Healthy Doner Kebab
When on a health kick you will undoubtedly find you start to crave all the bad things you used to indulge in a bit too often including the humble 1am doner kebab with chilli and garlic and ….. ohh yes!!
So the challenge is to make a healthy doner kebab – no problem!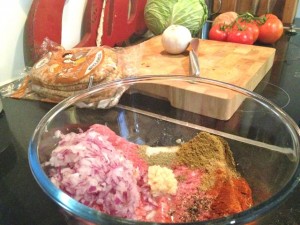 Ingredients;
250 grams lamb mince
1 tsp Cumin
1 tsp Coriander
1/2 tsp cayenne
1/2 tsp Chilli powder
1/2 tsp thyme
1 Crushed garlic clove
1 Finely chopped red onion
Good sprinkle of S&P
2 Wholemeal pitta breads
2 Tomatoes sliced
Small piece White Cabbage sliced finely
1 small white onion sliced thinly
Juice of half a lemon
1 tsps of vinegar
Sriracha Sauce to taste
Method;
Place mince with all of the herbs, spices, garlic and red onion into a bowl and mix thoroughly with your hands and then place your mix onto a baking tray with baking paper, then take another piece of baking paper over the top and spread out the meat to less than 1 cm thick. Carefully remove the top layer of paper and place in the oven for 15 mins on 180 degrees.
In the meantime mix the cabbage, onion, vinegar and lemon juice.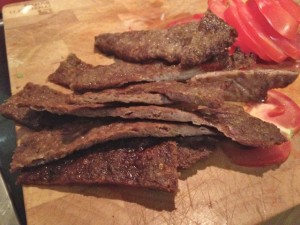 When the meat is browned slice into strips and then place in the pitta with the cabbage mix, tomatoes and sriracha to suit your palate.
Chow down and enjoy with a plate of sweet potato fries.