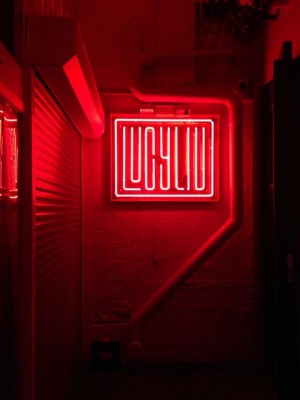 We tried and failed a few times to get to the ever popular Lucy Liu but on a balmy summer night there is nothing better than some spicy food and cold Gewürztraminer. A restaurant that takes bookings and welcomes walk ins… halleluiah!! The front door is actually round the back, down the cobbled street past Coda and into a little tunnel brightly lit with neon. The restaurant is a big space with a good sized bar, plenty of tables and a full open kitchen with seating to watch and enjoy. My only comment is, if you are going to have an open kitchen and have customers watching how their food is being prepared and what the team are up to they had best be aware. We went at the calm before the storm time of 5.30pm, obviously waiting for the first wave of dinners everyone was still getting to work and settling in so service was a bit haphazard but we got set up at the kitchen bar table and the strange menus with their lenticulated Dalmatians appeared with so many fabulous dishes on it was hard to choose. Rather than order one or two large dishes we went the lots and lots of small dishes.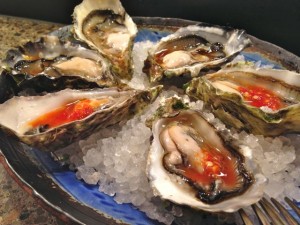 Freshly shucked oysters with red nam jim or ponzu sauce – we'll have three of each then! Really nice, fresh, dressings lovely (wish they were completely shucked so I didn't have to disconnect from the shell, I'm not good at it! I just want to slide and go).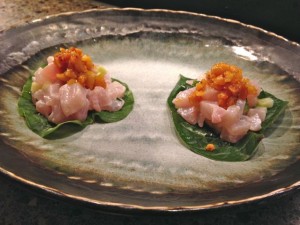 Fresh betel leaves with kingfish and chilli peanut sambal – super fresh and lovely, this was a great execution of using the best ingredients you can get your hands on and then teaming up with just a couple of great flavours to deliver happiness on a plate. But gone in just one little bite!
It was about this time that we started to notice a few niggly things, the chef playing with the bins through their team chat, the raw chicken and beef going into the same big tray (it is just me or is that not a good idea?), the guy day dreaming and scratching himself ..…. like I said you'd best be a bit self aware because if you sit people in those seats they are going to watch! The next couple of dishes were efficiently delivered by the expediter as there was no one to be seen to serve them, not that I minded we were very close.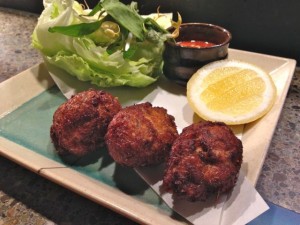 Thai fish cakes with lettuce and peanut and chilli dipping sauce – nice enough, big, crunchy balls with plenty of flavour but not my favourite so hubby got two!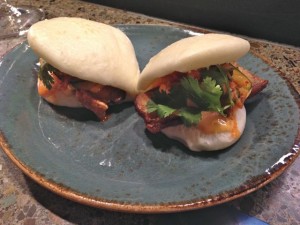 The Winner – Crispy pork bun with spicy kimchi and kewpie – amazing dish, absolute fave, a great slice of juicy pork belly in that velvety soft pillow with a bit of spice and a bit of that decadently creamy mayo.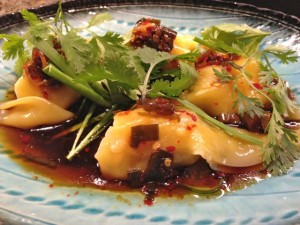 Barramundi and scampi dumplings with chilli, ginger and spring onions were beautiful, all wobbly and bathing in their chilli sauce and a great tasty filling.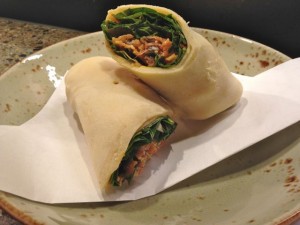 Our final dish – Soft shell crab 'jianbing' pancake roll – sensational, loved, loved, loved (it was the bin guys dish so lets hope he washed his hands!!).
We were in and out in a flash, the restaurant was just starting to fill with noise and laughter and clanking of dishes, the orders starting to hit the kitchen. We headed off down the road for a last glass of wine before the sun went down.