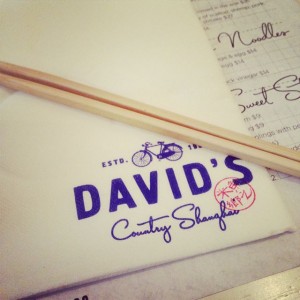 When you are heading to David's with a large group they will make life really simple and you can get a big banquet of lots of different dishes on the menu for a set price each (plus wine) so for $37.50 we had no problem signing up for the many, many delicious dishes on offer plus it meant we didn't have to agonise over the menu which has so much good stuff on it or work out a complicated bill or 'she had, he had'. Getting there can be a bit of an ordeal, Chapel Street on an Xmas lunch time is a treat! So we were a little late and we didn't really get going until the manager warned us at 2.15pm they were shutting at 3pm… oh dear! So from that moment on there was not time for pleasantries is was a game of how many dishes can we get on the table and how many can you eat before you realise you feel a serious food coma coming on!
Starting with the least favourite of the day – the 'Drunk Chick: soft, chicken marinated in chinese wine with green soy beans' served cold and without much flavour I guess the 'drunk chick' is never popular in either sense of the term!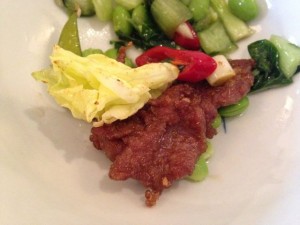 The ' Shredded lamb with chilli, garlic & spring onion' was my favourite, super spicy and really tasty. 'Steamed pork dumplings' were delicious with their super hot, soupy filled lovely pork parcels.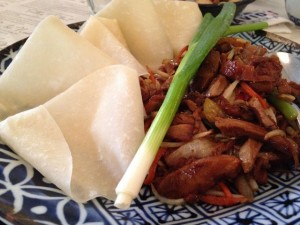 'DIY Shredded duck and veggie wrap' was an absolute winner, really , really loved this dish and could have eaten it all to myself! 'Spiced oolong tea quail eggs with bean curd & wolf berries' was not a favourite, maybe I wasn't in the mood for egg but they didn't seem to be fighting over them across the table. 'Pork rolls: crispy pork rolls with lettuce' good old spring rolls at their finest, mega hot but you don't care because you just want to eat them with their sticky red dipping sauce.
'Pan-fried spring onion pancake' LOVED can't go wrong, give me a whole plate full. 'One bite' soft shell river prawns' again maybe not in the mood or prefer these with a little mayo and a cold beer on a sunny afternoon.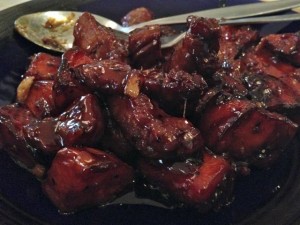 'Country comfort: sticky pork belly & chat potatoes' an oddly hearty dish in the midst of all those traditional dishes, the pork was beautifully done but didn't need the big chats with all the rice that was going around. 'Tofu & field of mushrooms' Really good tofu, I was surprised how much I liked this dish and you know the chef is a genius if he was take tofu to another level. 'Golden eye fillet with sweet potato, ginger & soy' Delicious, touch of rice with that stocky sauce and succulent beef – great dish.
'50/50: chicken ribs & chilli' Super crunchy fried chicken ribs – great stuff. 'Shanghainese popeye: native spinach and bamboo shoots' No one could pick this, all too conditioned for the little strips of sad bamboo we remember in tins as a child this was chunky and with the earthy spinach it was a nice dish but I think the ribs went down faster!
WOW – that was a lot of food and there was a fair bit left over but even the boys couldn't clear up with a second wind.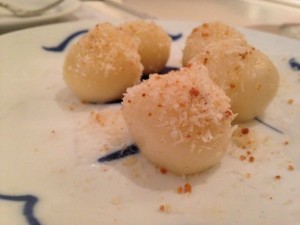 And then there was dessert, the 'Soft centred, white chocolate dumplings with peanut & coconut praline' were absolutely fabulous, if you like white chocolate and coconut then this is the dessert for you. Unfortunately it meant the 'Osmanthus & red bean black sticky rice pudding' just didn't sign as load, especially when it looked like a gorgeous glossy Christmas pudding and then didn't taste like that at all (not that it was supposed to but eating with your eyes first).
It was all a bit rushed but it was great to be able to try so many dishes and pick out all my favourites for next time when we come.