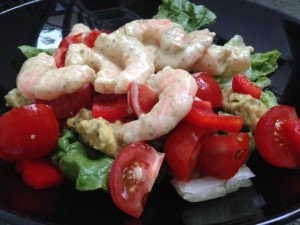 Nearly Traffic Light Prawn Salad

So we have the red and the green for the traffic light, just missing the amber! This is a super quick, healthy, fresh way to rustle up lunch and get some seafood into your diet.
Serves 2

Ingredients;

200 grams fresh, shelled and deveined prawns
10 Cherry tomatoes cut in half
1 small red capsicum diced
One cos lettuce split into leaves and washed
One small avocado
2 Tablespoons of Natural Greek Yoghurt
One teaspoon of green pesto
Method;
Mash up avocado, place dried lettuce pieces onto dishes and blob on teaspoons of avocado and scatter tomatoes, capsicum. Mix yoghurt and pesto and then dress prawns, places prawns on top of waiting salad and eat!
Super, simple and healthy, the pesto gives the prawns and the salad a lift and the crunch of the sweet capsicum and tomatoes make this a good all rounder.
Click here for more recipes