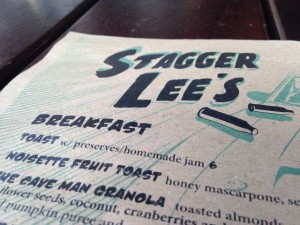 Breakie is a funny thing, for me anyway, I usually have to force myself during the week and weekends are usually a late brunch. Then there's the $$'s factor when you pay over $15 for toast and eggs never mind if you want to smush and avo or some delicately crumbled goats cheese, there won't be much change from a $20. I struggle, I really do, I have perfected my poached eggs at home and I can get a nice pack of Ocean Trout from the shops plus my low fat corn cakes means I can whip up a mean brunch for the price of the couple of coffees we have if we go out. Then there are the queues, the crazy Melbourne breakie culture means most places have a queue for tables and rolling all at that up I would prefer to pop on my perculator and have a lazy brunch in my pjs!
BUT saying that when friends offered to chauffeur us over to Brunswick Street and try out Stagger Lee's I put all my issues aside and we are fully on board and ready to go before 10am. Assuming that everywhere would be a bit quieter post Xmas we did score a cracking table outside next to the cute puppy and the friendly staff were super quick to get menus and waters in front of us and coffee orders on the go. Stagger Lee's is on a corner and looks great, all glass windows make the outside come in and vice versa and on a sunny morning it is a great spot to park yourself in.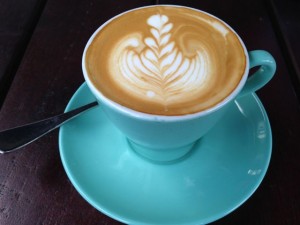 The menu is fab, I love breakie with a difference, if you are going to splash the cash you might as well get something extra with your eggs and toast. Plenty of good sides as well as dishes like the The Cave Man Granola with toasted almonds, pumpkin seeds, sunflower seeds, coconut, cranberries and medjool dates on a spiced pumpkin puree with coconut milk or Coco Pop and Salted Caramel French Toast with Coco pop cream pat, vanilla ice cream, honeycomb and raspberry crumb….. oh yes if I was allowed sugar that would be the one!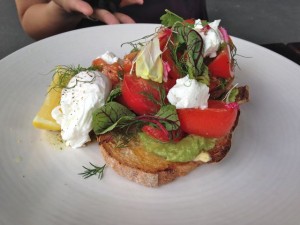 The Simple offers a good all round healthy option with Vine tomatoes, hass avocado, meredith goats curd, basil, olive oil, murray river pink salt or the The Fitz-Royale with Grilled asparagus, cashew cheese, avocado, fresh herbs, pea tendrils and citrus – just add an egg or any other side you desire.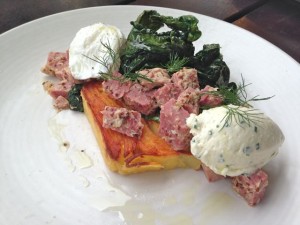 Mama's Stack looks so good with big hunks of braised corned beef, pressed potato, black cabbage, soft poached egg, horseradish cream – winner!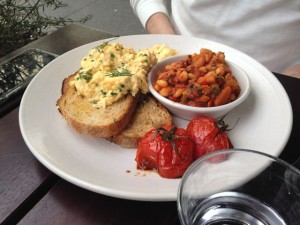 Hubby and I went for eggs, scrambled with toast and sides, beans and tomatoes for him and mushrooms for me – can you tell we are on a health kick?! Though I did split a cheeky side of bacon croquettes as a treat, this was breakie and lunch after all!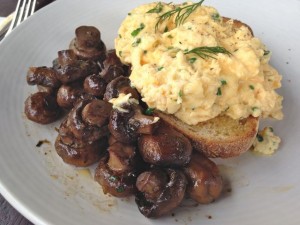 My eggs were the BEST eggs I have had in ages, pretty sure they had some decadent butter, cheese and lovely herbs going on to make them so wonderful but it was thoroughly enjoyed! Toast was yummy, side of mushies were all buttery and glistening in well worth the calories greatness.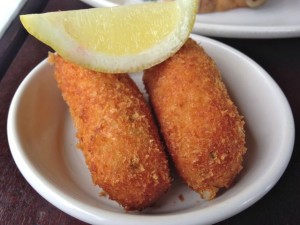 And these little beauties! Soooooooo good, if I am going to have treat on this health plan then it should definitely be bacon croquettes for brunch.
It was an easy hour spent with nice food, great service, good friends and the bill was $50 a couple which was pretty good for the great food we had. Stagger Lee's may have cured my aversion to weekend breakfasts!