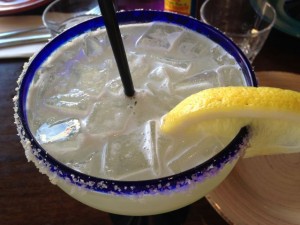 I love Mexican and Bluecorn offers great food, fun times, a very respectable margarita and no puffery and nonsense. The menu is a list of traditional Mexican with a few extra twists, enjoy Mexican dips with cornbread and corn chips, nachos that are to die for and tacos that make the whole table turn silent as they chow down. You can get sizzling smokey rump steak fajitas, mango chicken tostada or citrus ocean trout quesadilla. There are double baked burritos, sizzling peanut chicken fajitas and roast lamb rump tacos.
But first you have got to go the margaritas, big fun colourful glasses, rims heavily crusted with salt and a very good tequila hit sloshing around inside. It would be rude not too!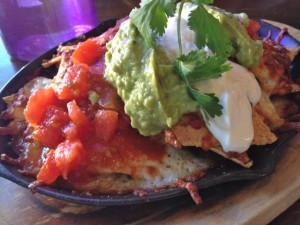 Entrees struggle to fit on our little table bit they won't last long so no problem! I LOVED the nachos, a perfect cheese corn chips with spicy salsa and rich guacamole…. Hmmmmm droooolll!!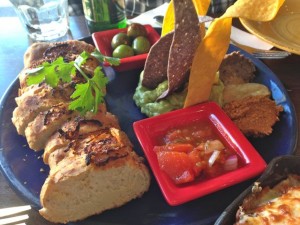 The Cornbread and dips were lovely, I could have eaten them all to myself they were so nice and the big marinated olives were a hit! And great cornbread.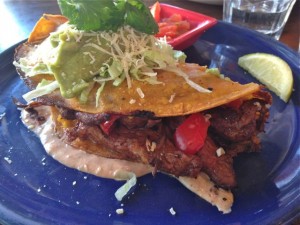 For mains I went the 'Too big to wrap burrito' Spiced grilled steak with mushrooms, chilli beans and tequila pepper salsa… need we say more? It was amazing, really good steak, no chewy cheap cuts here, great mushrooms and so much flavour with the beans and salsa – wasn't too big for me to eat obviously!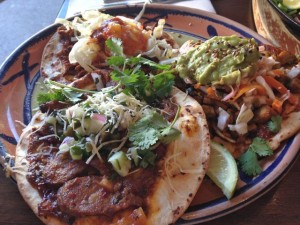 The guys have the three taco special with lots of yummy stuff to try and not get down your chin.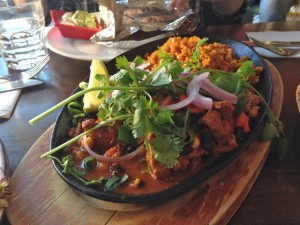 Hubby had the sizzling smokey rump fajitas and it kept him quiet for a fair while.
My only criticism was my own stupid moment where I lost my mind and ordered a bottle of chardonnay to follow the margaritas with dinner…. What was I thinking, to quote my friend "Oh it changed to fruity water" no chardonnay is not good with spicy food!! Oh well it didn't stop us enjoying ourselves and the bill was very reasonable when we finally headed off into the night.
*************************************************************************
Last published 16th December 2012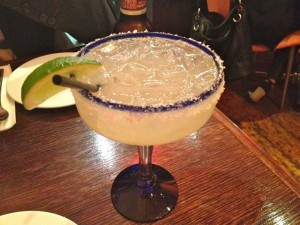 A great Mexican Restaurant needs a great margarita! Tick!!
The menu is big and I want everything!! I haven't had good Mexican for a long time and the menu is shouting all those great words like jalapenos, slow cooked, taco, ribs…….. Everything NOW!!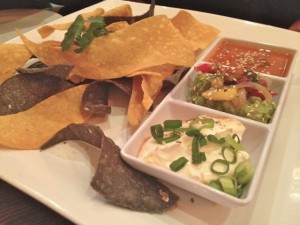 Housefried blue and yellow corn chips (Tostones) with Guacamole, Mango Mojo, Chipotle Tomato Salsa & Green Onion sour – Sensational however they will fill you up so if you want to save room only share these with several people or be prepared!!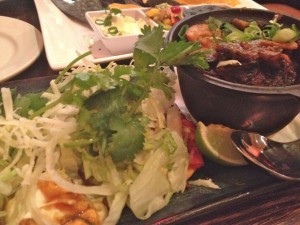 The nights special Sizzling Slow Cooked Sangria Beef Taco Rib is blow my mind amazing!! The flavours promised are definitely there and it is such a wonderfully clever dish! Heaven!!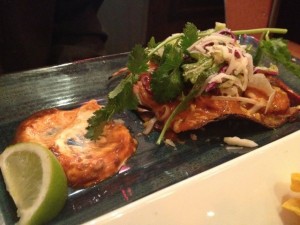 Soft Chorizo Taco with tomato chipotle salsa is also just wonderful and all of the dishes are accompanied with fresh salads and plenty of lime and coriander going on!! Thankfully the waitress has seen our type before – all big eyes and over ordering!! So we only order the one main dish!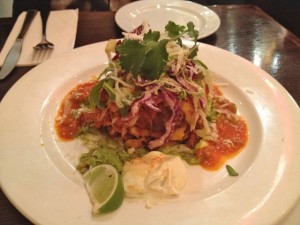 Jalapeno & Beer Braised Pulled Pork Quesadilla – its a big boy and it has all the yummy cheese and sour cream and ……. sooooo good!!
Only one main means that we are totally full but we can have churros right?!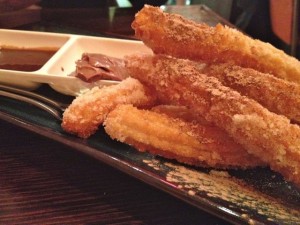 Cinnamon and Orange churros with choc dipping sauce and choc mousse – WOW WOW WOW
It is all about flavour here and I am, as promised, totally in love with Bluecorn – see you very, very soon!!