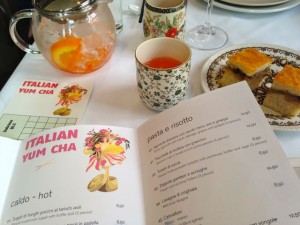 What a brilliant idea, Italian Yum Cha. The Grand in Richmond are pulling out all of their little Italian plates and Chinese steamers and offering lucky patrons the opportunity to try lots and lots of Italian dishes yum cha style. Apparently there is a big team in the kitchen to deliver this joyous parade of deliciousness and you would need it, each dish is meticulously prepared and there are a lot to choose from!
Imagine being able to just have a taste of all of the dishes you desire, just a touch of wild boar lasagna or a spoonful of duck agnolotti with grapes and grappa. Just a taste of organic beef carpaccio with mustard cress & grana padano or just a couple of bites of pumpkin tortellini with pepitas, parmesan, butter & sage. The list goes on and on and you just know that you will be back again to try the other ten dishes you really wanted but were just to stuffed the first time!
The guys at The Grand are great, they have a wonderful pub, outside area, fine Italian Restaurant and some beautiful private room spaces that I would definitely recommend for your next occasion. Whether you are enjoying a parma and a beer in the sunshine or getting your yum cha on in the dining room there is a friendly smile, an expert hand and a definite passion for what they are doing.
We were lucky enough to be invited to try out the wonderful yum cha and were very well looked after, starting with a pot of Aperol Spritz – so refreshing and served in little Chinese tea cups. Two little squares of caramalised onion bread are quickly delivered to get us started and fortunately we have Katie on hand to help us making the tough decisions on the menu – there are so many amazing sounding dishes to choose from.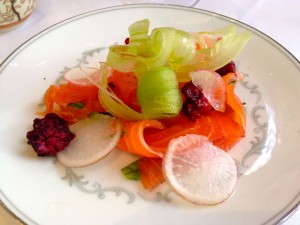 Berry Cured Ocean Trout – so very pretty, the sharpness of the berry with the incredibly fresh, cured slices of ocean trout and the celery curls are as delicious a dish as it is beautiful.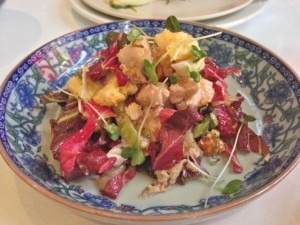 Poached Rabbit Loin with bitter leaves, parmesan and walnuts is gorgeous, a generous serve of succulent rabbit with the balance of the bitter leaves and those cheeky walnuts – it's a happy dish.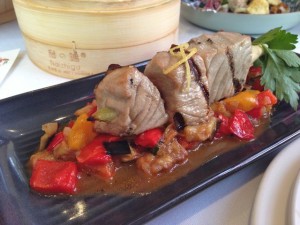 Tuna Lemongrass Skewers are another generous dish with three big hunks of seared tuna with a beautiful sauce of roasted peppers. The Ox tongue with frizze, capers and mustard fruit was our 'we'll give it a go' dish, hubby is more into offal etc than me and to be honest the tongue didn't do anything for either of us but thats the joy of yum cha, don't like? You have barely wasted anything!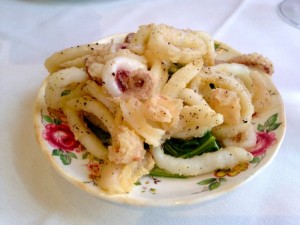 Salt and Pepper Calamari is delicate, crunchy and my kinda squid – I love! And I'm eating it with chopsticks – go figure!!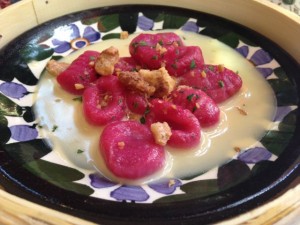 Beetroot gnocchi with gorgonzola and walnuts is heaven – cheesey, crunchy, pillowy gnocchi heaven! Hubby was not on board the gorgo-train but all the more for me and don't mind if I do!!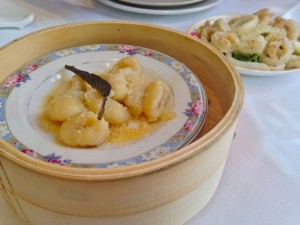 Equally lovely is the gnocchi with brown butter and sage, delicate little lovely gnocchi with just a few simple friends to create and incredibly delicious dish.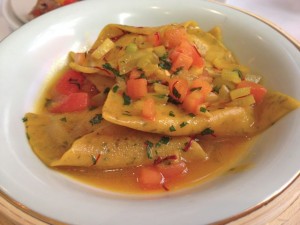 The Spanner crab imbustata is another fave, I love that we can have all these tastes of dishes rather than have to choose one big dish to commit to! This is much more fun and I get to have just two perfect little parcels of fresh, juicy crab.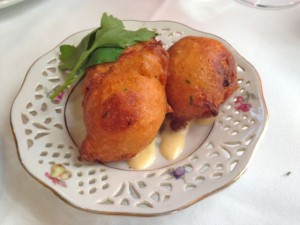 The Prawn and Anchovy fritters were ok, I'm a big fan of these little fish and the flavour was very subtle, I could do with more fish!!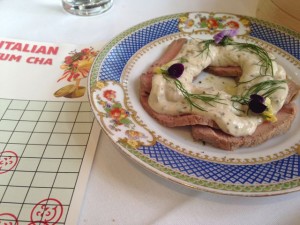 The Vitello Tonnato – poached veal loin with tuna mayonnaise was a gorgeous dish, I always think the partnering of veal and tuna mayo a bit odd but it tastes lovely, delicate slices of veal and creamy, rich mayonnaise.
Cannoli time! 'fried and stuffed sticks of heaven' WOW! Two little crispy rolls, one with rich, creamy ricotta and the other with creamy, wonderfulness.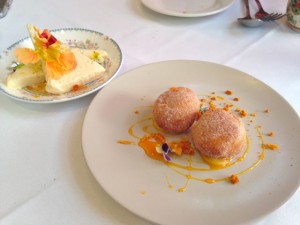 Nougat Semifreddo and The Grand's signature Bombollini – little lively mini doughnuts and heavenly creamy, crunchy semi – heaven. We are officially stuffed! The Grand has treated us to an afternoon of sensational food, impeccable service and I wish we could have stayed all day, that sunny courtyard would be a perfect spot for a cold cider and some vitamin D. Now be aware the Italian Yum Cha train may only be here for a short time for The Age Good Food month but I reckon there is a good chance this could be a regular at The Grand and so could we!
Italian Yum Cha
When: The first four Saturday and Sunday lunches in November
Where: The Grand Dining Room
Cost: Pay for what you eat
Bookings essential: 03 9429 2530