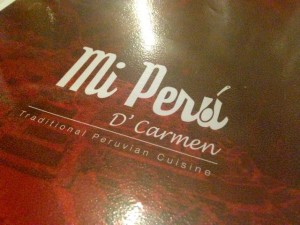 I haven't had Peruvian before so when a friend suggests a trip out to Parkdale to their local spot we are there! It is super cute, bright thick rugs as table cloths, friendly smiles from the family and a menu packed with first time dishes for most of us.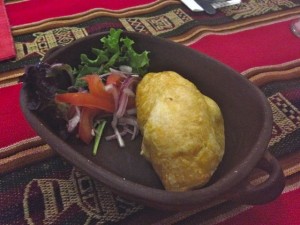 The 'Empanada de carne' – peruvian style pastry with seasoned minced beef, olives, egg and sultanas. Was gorgeous, a little dry but we asked for some of the sauce Huancaina and with the red onion salad it was nice.
Salchipapa – sliced pan fried sausages and hot chips with two sauces – lets be honest, its a little bit of an odd entree, more like a kids meal and probably not $10 worth but we all happily dipped our sausage in mustard and mayo and had our chips.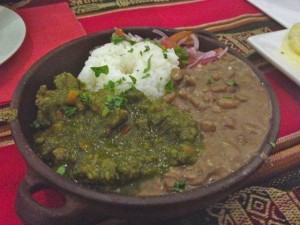 Seco con frijoles – classic stew from the north of Peru, chunks of lamb with coriander sauce with beans and rice was really nice, quite salty but delicious.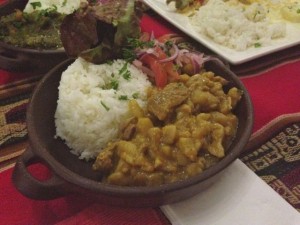 The Carapulcra – pork and chicken pieces in Andrean dried potato sauce with peanuts and rice was great, lots of good flavour and easy to share.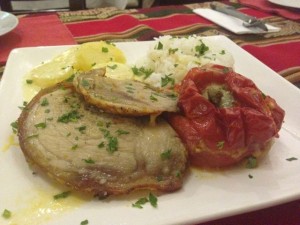 The Pork with stuffed capsicum was ok, the pork was a little tough but the capsicum was enjoyable. Now bring on dessert!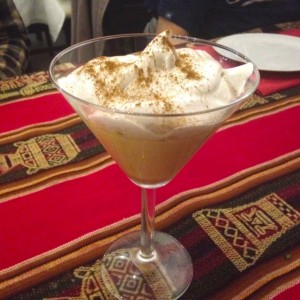 Suspiro a la Limena – vanilla bean custard with gooey caramel and meringue was totally my kind of dessert, I loved it, gooey caramel, custard… yum!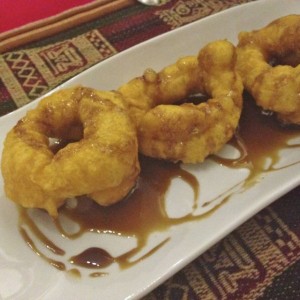 The Picarones – the house specialty of light and crispy Peruvian style doughnuts served with fig leaf syrup was a big hit with everyone, I was happy stealing more custard but those doughnuts were gone before you knew it.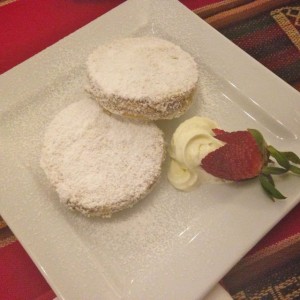 And to finish the Latin American shortbread biscuits with Manjar bianco (caramel). It's not fancy but it's definitely wholesome and feels like authentic, family cooking. The service is nice and it's BYO so the bill is a pleasant surprise.
All in all not a bad place if you fancy a bit of Peruvian.