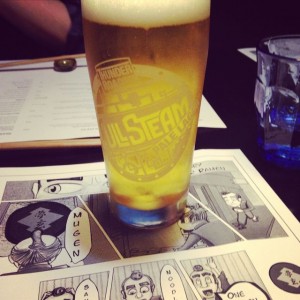 From the super cool team at Robot Bar, just across the laneway is the modern, underground, 'Japas' and Noodle bar Mugen. Serving up bowls of steaming ramen and some very respectable Japanese tapas dishes. Also serving their own brewed beer in collaboration with ThunderRoad Brewery, you can enjoy the Saison Japan, infused with Japanese botanicals, this combines European complexity and finesse with the four traditional Japanese flavour essentials of Konbu, Shiso, Yuzu and Ume….. tastes damn good!!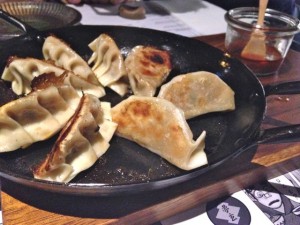 House made Gyouza, served with Mugen's special sauce – absolute perfection, some of the best pot stickers I have ever had, delicately thin dough packed with flavour and the sauce was incredible. Loved!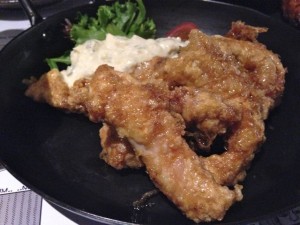 Kyushuu style deep fried chicken thigh, dipped in sweet and sour sauce served with Japanese Tartare
sauce and mixed leave salad, incredible flavours and the tartare didn't seem quite right when you usually associate with fish but this was out of this world. The chicken wasn't crispy after dipping the sweet and sour sauce but it was perfectly cooked and delish!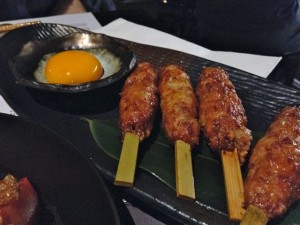 Tsukune – Japanese grilled chicken skewers made from tenderloin thigh and softbones with Teriyaki sauce
and egg yolk side to dip – looks fabulous and it was beautifully done, I just wasn't a fan of the crunchy bones inside, hubby loved them so he was happy to finish up with that gooey egg to dip in.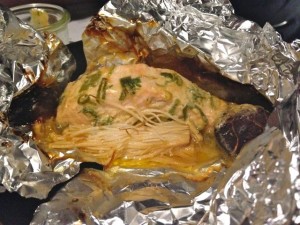 Ok it doesn't photograph well but this was my favourite dish, the Salmon Foil-Yaki with fresh salmon fillet braised on the grill in a sealed foil package with Mugen special Miso, Spring Onions, Shiitake and Enoki mushrooms. Super succulent salmon and the mushrooms were sensations, they soaked up all the delicious sauce and made a wonderful dish, I really want to try this one at home!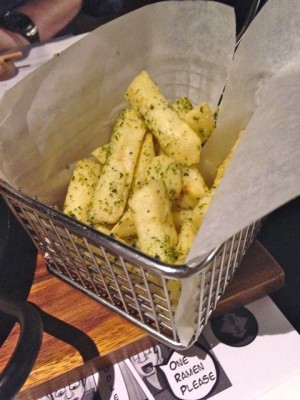 Had to be done, a cheeky side of Chips with Green Laver and Salt – Green laver it's a sea lettuce (I googled it!!), super hot and crunchy chips with our fabulous salmon – it's Mugen's fish and chips and it's a winner.
It's a tiny space and but once you are settled in your seat you're fine, just try not to hit anyone with your bags as you come through! Staff are lovely, service is quick and prices are reasonable – it's a great spot for a beer and some Japas.