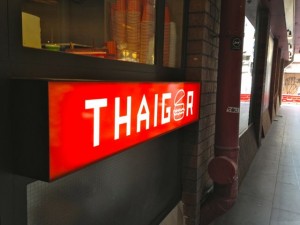 Tiny tiny Thaiger, hidden amongst the bustle of the Laneways off Bourke St. After a hard days shop you can pop in and pick up a little something to take home and enjoy. It is seriously small, check out the menu outside and then pop in to order your Prawn Croquette, Crying Tiger, Spicy prawn, Pork belly or the Pou Nim – soft shell crab in a black bun.
Everything is around the $10 mark so for twenty bucks you and a friend can have a good time. Once ordered you probably want to wait outside as it's small and the fryers are working overtime with those little crabs. The girls are powering through in their little kitchen, smashing through their many orders. Ours is soon ready and safely wrapped to head home.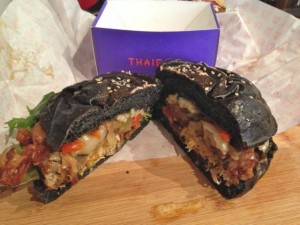 We went for the Pou Nim black burger with a super crunchy fried soft shell crab, Granny Smith Asian slaw cuts through with tangy sweetness and the Thaiger dressings finish the whole thing off with a mouthful of sweet, tang, crab, creaminess. The black bun looks cool but didn't taste of anything in particular, or maybe it was over shadowed by all those other amazing flavours.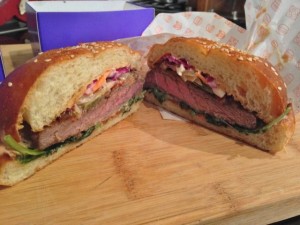 The Crying Tiger is a big slab of beef rump, cooked pink and teamed with mixed leaves, Nam Jim Joew dressing and it is divine! Thaiger Thai Gourmet burgers are certainly a hit in our house and will be a temptation waiting for us everytime we pop into town.