Where shall we go that's lots of fun, lively, live music, great food and sells beer by the litre? We're going back to Munich Brauhaus and taking a few native speakers with us! Even early on a Thursday evening the place is pumping, boys crowd the main bar like a Saturday night stag night, those lederhosen clad servers frolic about the place and we manage to secure a corner with a table to watch the fun! Having tried to pull a bit of year 6 German out last time with the most important man in the place, Stefan who is king of the dining hall and giver of tables, seems to remember me and we score a perfect table in the main hall with a view of the crazy Oompah band.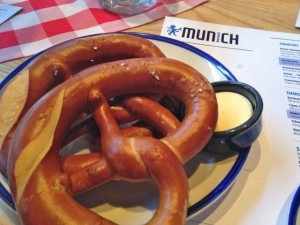 With five of us to feed we are in the right place, as heavily laden platters fly past weighed down with pork knuckles, sausages, schnitzels and pork belly and an alarm keeps sounding to signify some crazy fool is going to eat his own weight in some sort of challenge. We have already had a sneak peak at the offering on the Brauhaus menu and are quick to suggest we all share lots of nice food as the portions are generous (and I like to try all the dishes!!). The pretzels are a must, warm, salty bread pretzels with butter and a cold beer? Happy days!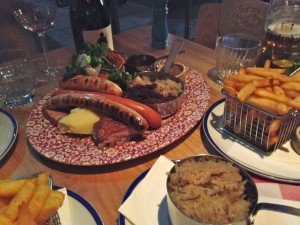 The platter that nearly broke us all last time is a perfect one for everyone to share and get a taste of the sensational pork belly, the fall off the bone pork knuckle, the schnitzels, the krauts, the apple sauce and the sausages.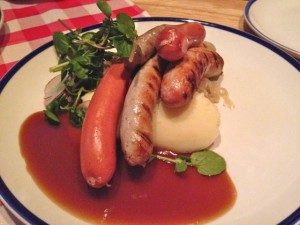 But just in case there isn't enough sausage we get the sausage platter or 'Bräuteller ' with Sauerkraut, mash and Bier Jus – plenty of sausage for everyone!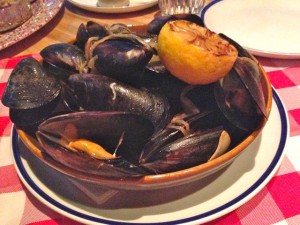 The 'Franziskaner Muscheln' simply put Bier Mussels doused in beer, thyme, butter and served with fries are fantastic, fresh, lovely plump mussels – not a single one closed! Superb. Extra fries and sauerkraut for the table and we all enjoy the traditional tunes from the band, and some not so traditional! Plenty of beer, wine and a few cheeky shots start to sneak in and of course we should have Black forest gateau with marinated cherries and dark chocolate and the apfelstrudel too with vanilla custard and fresh cream!
I doubt there is a ever a quiet night at the Brauhaus and if you fancy some very good food and a drink or two there are much worse places you could go!!
****************************************************************************
Last published 14th September 2014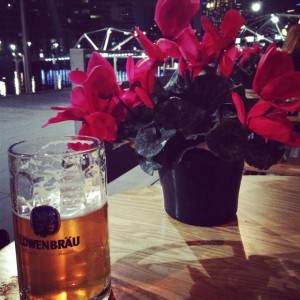 It's very BIG, it's very LOUD and it's LOTS of fun! Munich Brauhaus has exploded onto South Wharf bringing all things I love about Germany with them including the terrible traditional outfits they have the staff in. It's totally a boys place including the skimpy short clad girls, 1 litre steins, massive tvs for the footy in the front bar, mammoth schnitzels and thigh slapping music. It's a great place for a group of friends to grab a bench table by the river and get a cold Lowenbrau and a plate of sausage.
Seating 1,500 people and they were all there on Saturday night and still people were queuing out of the door. We had a magical moment where we were able to grab a table outside by the wharf and set up shop for an hour until our table is ready. The huge bar in the entrance has all of the huge glass steins hanging from the roof and the beer is flowing freely as well as a reasonable wine list. It's a beautiful balmy night and it's fun watching the world go by and the boys starting to sway after another litre of beer. Take a wander to the bathrooms and you get a real feel for the size of the place, past the wooden, hunter style front bar with footy fans hollering whilst the stuffed hogs look on from the walls.
Past the kitchen with a whole suckling pig slowly turning in the window and the lederhosen lads all waiting for the big plates of pork knuckles and mash to sweep off to the huge central hall packed with brightly decorated tables and the Oompah Band providing the entertainment. Past the big, noisy hall there is another huge bar and then a strange little annex with another ten tables that is housed in a wooden greenhouse effect…. guess where we ended up sitting!
Stefan on the door is running the mammoth task of bookings and seating and is doing a damn good job, we have a little German banter before we are taken past the hall and into the greenhouse, it's a strange spot but we get seated and one of the many staff quickly get menus and drinks sorted. The menu has all the favourites jumping out goulash soup, sausage, schnitzel, knuckle, pretzels, sauerkraut fritten. These are man sized portions which covers off the cost of a schnitzel with sauce and sides being north of $30. There are lots of set menu ideas too including the debauched sounding 'JÄGER MENU -THE HUNTERS BOUNTY' for $95 a head with Wild Boar Prosciutto, Duck Pâté, Pork Rillette, Black Pudding, Pickles, Brioche Toast plus a pretzel, beef carpaccio and 'Forelle im Glas' Potted Smoked Trout & Salmon Pâté………………… that and a litre of beer and you will need to be rolled home like a barrel!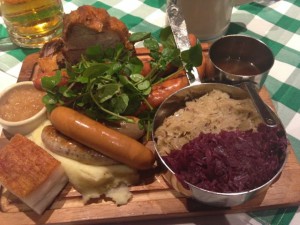 Considering the price of the single giant schnitzel the 'Munich Festplatte' for $39 is a bargain, you can try a bit of everything
Crackling Pork Belly
Artisanal haus-made and Smoked Sausages
Crisp Roasted Pork Knuckle
Schnitzel
Sauerkraut
Red Cabbage
Apple Compote
Mashed Potatoes
Bier Jus
OMGGGGGGGG It comes on a relatively small wooden board but it must weigh a ton! Two schnitzels so you can try chicken vs veal, perfectly crispy pork belly and a quarter knuckle with hunks of pork that melt in the mouth. The number of sausages has turned into an urban legend FIVE, SEVEN, TEN! Ultimately too many but I loved a little bit of them all! The traditional bockwurst all smokey and tasty, the traditional bratwurst, the frankfurter they all seem to be there! I never stood a chance but I had a good go and thoroughly enjoyed every single bit. Even the boys were beaten by the multitude of sausage! Next time less beer maybe?!
Everyone is having a great time, there are a lot of staff and they are working hard to make sure 1,500 people have their beer and food in record time and keep those tables turning for the queue growing at the door. We left into the night with our top trouser buttons straining and promises to come back again for more fun and fodder.
Danke schön Munich Brauhouse, we'll be back again soon!